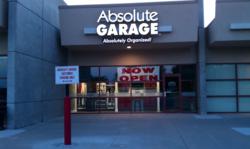 "When Absolute Garage and Closets decided to carry our storage systems I was absolutely thrilled. I have worked with and known the Walkers for quite some time. They work extremely hard and are really good at what they do."
South Beloit, IL (PRWEB) July 31, 2012
The Absolute Garage and Closets (http://www.AbsoluteGarage.net) journey began when Todd and Renita were looking for storage solutions to organize their own garage. What they found were limited options for garage storage not to mention the atrocious customer service at the big box stores. Seeing a gaping hole in the market, this entrepreneurial duo jumped on the opportunity to assist other homeowners with organizing the garage.
At Absolute Garage and Closets homeowners can receive assistance with the design and installation of both garage cabinets and closet systems. The company also provides installation services for garage storage accessories and various garage flooring options. The garage organization specialists strive to offer their customers high quality customer service and a custom storage solution. For many of those custom solutions, they turn to RedLine Garagegear (http://www.RedLineGaragegear.com).
"When Absolute Garage and Closets decided to carry our storage systems I was absolutely thrilled," said Bill Garrity, RedLine Garagegear National Director of Sales and Research. "I have worked with and known the Walkers for quite some time. They work extremely hard and are really good at what they do."
The company carries a few different garage cabinet lines; however, RedLine Garagegear is one of their main suppliers. The storage systems produced by RedLine are made of powder coated wood and are custom built to fit the homeowners' garage like a glove. These cabinets are able to withstand high humidity, spills, direct sunlight, temperature extremes, and a plethora of other nasty garage conditions because they were designed especially for the garage.
RedLine Garagegear is the child company of Greenberg Casework Company Inc. Since 1985 Greenberg Casework Company has been providing custom built casework and cabinetry to schools, hospitals, P.O.P display designers, and the commercial construction industry. The manufacturer also offers powder coated wood and other specialty coating services through its child company GCC Coatings.
RedLine Garagegear sells its manufactured products through a network of agents throughout North America. The company also sells direct to consumers in areas where no dealer is available. RedLine is actively looking for entrepreneurs and business owners who would like to start a business or add to their existing product line. "We look for new agents who are very much so like the Walkers of Absolute Garage," said Troy Greenberg, RedLine Garagegear President. "The Walkers are extremely hard working, they have an expansion/growth mindset, and they are very knowledgeable about both the products that they offer and their customers' needs."
The closet systems, garage flooring options, garage storage accessories, and garage cabinets Omaha natives need to get their storage areas organized can be found at the local Absolute Garage and Closets showroom. The Omaha showroom is located at 16909 Lakeside Hills Plaza #115 Omaha, NE 68130 at the corners of 168th Street and West Center Road in the shoppes at Lakeside. Customers can visit this location between the hours of 9 am and 5 pm Tuesday through Friday or 10 am and 4 pm on Saturdays. Appointments are also available by calling (402) 330-2300.
For the closet systems, garage flooring, garage storage accessories, and garage cabinets Des Moines residents need visit your local Absolute Garage and Closets showroom. They are located at 2679 100th Street Urbandale, IA 50322 and are open from 9 am to 5 pm Tuesday through Friday or 10 am to 4 pm on Saturdays. Interested individuals can also give them a call at (515) 254-0040 to set up an appointment.