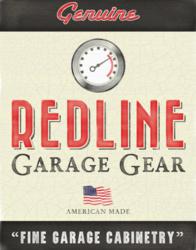 One of our greatest assets is our agent network. We believe it's definitely important for customers to be able to look and feel our product before making a buying decision.
Sotuh Beloit, IL (PRWEB) November 28, 2012
RedLine Garagegear (http://www.RedLineGaragegear.com), maker of the original powder coated wood garage cabinets, is hoping that its large training class for January 2013 is a sign of an economy on the rebound. The manufacturer will play host to its largest training class to date for two days in the first month of 2013.
"The economic climate has made it difficult for some folks to even think about starting a business and a lot of business owners have been nervous about adding new offerings to their product lines," said RedLine Garagegear National Director of Sales and Research Bill Garrity. "We've been fortunate to partner with some great business owners throughout North America and we're excited to start the year training new agents."
RedLine Garagegear authorized dealers currently operate show rooms in more than 50 areas throughout North America. The incoming training class will add another eight to that number all within the U.S. During the two days of training business owners will come from Rochester, Minnesota; Little Rock, Arkansas; Williamsburg, Virginia; Harrisburg, Pennsylvania; and other areas around the country to the manufacturer's facilities in South Beloit, IL.
When trainees arrive they are already pretty well versed in RedLine's products. As a result they are able to spend a good deal of time learning about the storage system design software. They will also have the opportunity to see the manufacturing process during a tour of the company's plant.
The garage cabinet maker is the child company of Greenberg Casework Company Inc. Since 1985 Greenberg Casework Company has been manufacturing custom cabinetry and casework for both residential and commercial customers.
Aside from RedLine, Greenberg Casework Company is also the parent company for GCC Coatings (http://www.PowderCoatMDF.com). That branch of the company family tree is responsible for powder coating wood parts for both RedLine and other wood product manufacturers. Greenberg Casework has also launched a new blog called Garage Talk as a part of a new website and e-store currently in the works.
RedLine Garagegear has made it fairly easy and straightforward to become an exclusive carrier of their garage storage solutions in any local market. The company chose the dealer model over a franchise one for a variety of reasons. Under the dealer model, agents are not required to pay exorbitant franchise fees. This also allows the agent to market their products in a way that is conducive to their local market.
Once training has concluded agents will be assigned a protected territory to service. They will be able to run their business without direct corporate interference but will receive full support for the design software and any orders they place.
"One of our greatest assets is our agent network," said RedLine Garagegear President Troy Greenberg. "We believe it's definitely important for customers to be able to look and feel our product before making a buying decision."
RedLine Garagegear also sells direct to consumers in areas where no dealer is available. Both Troy and Bill are convinced, however, that the best way to sell custom, high quality garage cabinets is through a local showroom.
The company is always looking to add new agents to its growing network. The ideal candidate will have a showroom for displaying RedLine Garagegear products, experience in the home storage industry, and the ability to effectively market the product in their local area. Business owners interested in becoming an agent can find out more about the opportunity available here.
It's clear that all the folks at RedLine Garagegear are excited and optimistic about what's coming in 2013. Perhaps this will be the year you finally get your garage organized.