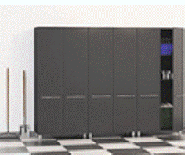 Free Freight For Garage Cabinets - What A Deal
Boston,MA (PRWEB) February 28, 2013
The garage is the heart of spring cleaning. A Plus Warehouse is now offering a promotion on garage cabinets this spring cleaning season. Ulti-Mate garage cabinets are in great demand due to their ready to assemble design and attractive looks. Once the dirt and grime is removed from garages, people can see how some garage cabinets could really make the space more efficient. From March to May 2013, A Plus Warehouse is offering free shipping for any number of Ulti-Mate garage cabinets shipped to any location in the lower 48 states.
Typically, shipping to consumers can be quite expensive. For this promotion all fees normally passed on to the consumer are being absorbed by A Plus Warehouse. The charge shown online will accomplish Ulti-Mate garage cabinets being delivered right into any garage. Customers need to consider if they want traditional storage cabinets or garage cabinets. Storage cabinets are not part of the free freight promotion. Storage cabinets tend to be industrial in application and are therefore used primarily in a business operation. Garage cabinets are always shipped ready to assemble and are rugged, yet less durable than even the A Plus Warehouse QualCab cabinets line.Garage cabinets are intended for consumers that are able to do light assembly work, and have the typical storage required in any non-commercial garage. That being said, many companies like the look of Ulti-Mate garage cabinets and use them as well.
Garages rarely require just one cabinet. To make ordering easier, A Plus Warehouse offers garage cabinet suites. A suite of garage cabinets will include several cabinets of various sizes that will optimize the user's garage space. Garage cabinet suites are covered by the free freight promotion as well. BH Furniture manufactures the Ulti Mate line and has for many years. Major retails have sold this line as well. The BH line includes garage work benches as well as cabinets.
Customers count on A Plus Warehouse for value pricing as well as outstanding service. Garage cabinets orders typically ship within two working days, and A Plus Warehouse stands behind all deliveries. In the off chance that any garage cabinet gets damaged in transit, the customers just needs to mark the delivery receipt damaged, then contact A Plus Warehouse. A Plus Warehouse makes sure customers are satisfied. Customers have counted on A Plus Warehouse for over 15 years for storage cabinets , lockers, conveyors, work benches and materials handling equipment as well. Garage cabinets are a great addition, and the free freight program makes these items even more attractive.
Trained sales representatives are ready to help at 800-209-8798.