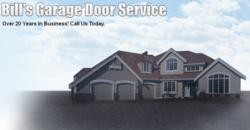 I've been installing these machines for about nine months now and find them reliable, as well as greatly accepted by my customers
Redwood City, CA (PRWEB) February 09, 2012
San Mateo garage door repair company, Bill's Garage Door Service, a comprehensive service and sales company that offers high quality garage door services in the San Mateo and Santa Clara areas, now offers customers the newly designed Genie garage door openers.
The new garage door openers from the Genie Company feature an intelligent design with quiet and fast performance, superior design, and the ultimate conveniences. They now use DC motors with total logic circuit control for all adjustments. The motors are rated as equivalent to old-style, one-half horsepower induction-type motors, but with new greaseless drive systems, which create a quieter and cleaner operation. The garage door openers are offered in chain, belt and screw drives, and come in a new stylish appearance. They are also available in both the economical builder's models, as well as deluxe models, for residential overhead garage doors.
"I've been installing these machines for about nine months now and find them reliable, as well as greatly accepted by my customers," owner William Radisch of Bill's Garage Door Service said.
Bill's Garage Door Service offers a wide range of garage door services, whether it is a quick repair, a brand new door or a custom design, Bill's Garage Door Service handles any request.
For more information about any of Bill's Garage Door Service's products or services, call 650-399-0733 or view the company on the web at http://www.billsgaragedoorservice.com.
About Bill's Garage Door Service
Bill's Garage Door Service offers full garage door services, including garage door repairs, sales and installations. The company sells and installs all major brands of residential overhead garage door parts, garage door replacements and door openers, including popular new types of installation-ready steel, wood sectional doors and custom-built wood doors. Installations include opening modifications and removal of old doors from job site.
Serving the San Mateo and Santa Clara areas, Bill's Garage Door Service also services all types of makes and models of electric door openers, as well as existing garage doors. Door services include solid one-piece doors, sliding bypass doors and overhead section doors.
###