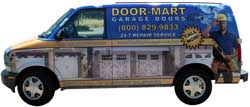 Within our household, we have gone green and become more energy efficient to save both the environment and our bank accounts!
San Francisco, CA (Vocus/PRWEB) March 03, 2011
Homeowners are increasingly extending their efforts towards environmental responsibility to their homes and home improvements. Door-Mart Garage Doors, a San Francisco Bay Area garage door repair and installation company that serves all of northern California, is helping homeowners be more green while saving money with insulated garage doors and other products.
"Within our household, we have gone green and become more energy efficient to save both the environment and our bank accounts," said Door-Mart Garage Doors customer Ed Vasaco. "So when the option of going green with our garage was presented to us, we jumped on the idea as soon as we found out that the options were completely affordable."
A main garage door is basically another exterior wall. Adding insulation to the door increases a home's energy efficiency, which in turn reduces the energy bill because it keeps the garage cooler in the summer and warmer in the winter. In conjunction with the insulated door, using an opener with a direct current motor, which Door-Mart offers, uses less energy. This combination will help reduce environmental impact and electricity bills.
In addition to leaving a smaller carbon footprint and providing savings on monthly energy bills, insulated garage doors make a home more desirable and can help command a higher resale value. They are a great way to keep ambient noise out of the house because the insulation stops sounds of the neighborhood from entering the garage and subsequently the house.
For more information about eco-friendly garage doors or any other products and services from Door-Mart, please visit http://www.doormartgaragedoors.com/, or call them at 800-829-9833.
About Door-Mart
Door-Mart Garage Doors is a trusted Bay Area garage door installation and repair service company that specializes in the installation and repair of existing garage doors and automatic garage door openers.
Door-Mart Garage Doors serves the entire San Francisco Bay Area, including the communities of Alameda, Antioch, Berkeley, Castro Valley, Concord, Daly City, Dublin, Emeryville, Fairfield, Fremont, Hayward, Livermore, Marin, Martinez, Mill Valley, Mountain View, Napa, Novato, Oakland, Palo Alto, Pleasanton, Redwood City, Richmond, San Bruno, San Francisco, San Jose, San Mateo, San Rafael, San Ramon, Santa Clara, Sonoma County, Solano County, Vacaville, Vallejo, and Walnut Creek.
# # #