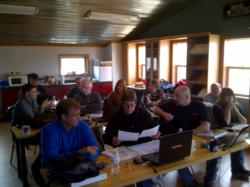 We're really excited to expand our agent network. The local showroom is really where folks are able to see our products up close. That's where we are best able to differentiate ourselves from the other options out there.
South Beloit, Ill. (PRWEB) February 12, 2013
It was one of the largest training classes to date for garage storage system manufacturer, RedLine Garagegear (http://www.RedLineGaragegear.com). Nine individuals representing six established businesses from both the United States and Canada were present to learn all they could about some of the company's standard operating procedures on January 21-22, 2013. Some of the things discussed during those two days were: the design software RedLine uses; how to place an order; and how shipping will work.
"We work really hard for those two days to ensure that the new agents are ready to start designing and selling our products right away when they return home," said RedLine Garagegear National Director of Sales and Research Bill Garrity. "We spend a lot of time working in the software the agents will use to create 3D designs. The comprehensive design software encompasses all visual details of the garage environment."
The robust design software the manufacturer uses to create 3D garage cabinet layouts for customers to view and approve is widely considered the best in the industry. The agents are able to add windows, overhead doors, electrical outlets, and a host of other items to fully recreate the customer's garage on a computer screen. RedLine Garagegear also currently boasts over 500 cabinet choices including a few specialty cabinets (i.e. garage closets, corner cabinets, lockers, etc.) that new agents must become acclimated with.
"It's really important that the agents are familiar with the cabinet options because most homeowners come to them not really knowing what their options are," added Bill. "In many instances the customer is counting on the professional to make suggestions and steer them in the right direction when it comes to designing a custom closet or garage storage system."
The newly trained agents will be the exclusive carrier of RedLine Garagegear garage cabinets in their area. Some of them will also add the line of closets manufactured by RedLine Closet Systems to their offerings. Components from the closet line can be used to create nearly anything from custom entertainment centers and bookshelves to storage systems for closets, pantries, laundry rooms, or mud rooms.
The dealers are established in six locations throughout North America where RedLine does not currently have an agent. The manufacturer sets up protected territories for each dealer giving the business an opportunity to be successful without unnecessary competition. RedLine Garagegear's agent network has expanded to over 60 dealers and sells its products direct to consumers in areas where no dealer is available.
Starting from the East Coast the new agents are: Lance Lamborghini in Sagamore, MA; Working Spaces in Trent Wood, NC; Garage Makeover, LLC in Harrisburg, PA; Space Concepts in Rochester, MN; RedLine Garagegear of Arkansas in Little Rock, AR; and finally, our neighbors to the North will have Leisure Life Spaces in St. Agatha, Ontario.
"We're really excited to expand our agent network," said RedLine Garagegear President Troy Greenberg. "The local showroom is really where folks are able to see our products up close. That's where we are best able to differentiate ourselves from the other options out there."
RedLine Garagegear and RedLine Closet Systems are the child companies of Greenberg Casework Company Inc. The parent company has been building custom cabinetry and casework since 1985. Over the course of nearly three decades Greenberg Casework Company Inc. has manufactured everything from store fixtures to reception desks. Another child company, GCC Coatings (http://www.PowderCoatMDF.com), is the wood powder coating arm for the manufacturer. When not applying powder on wood for its sister companies, GCC Coatings offers its powder coated wood services to other manufacturers.
RedLine Garagegear is expecting continued growth ahead in both the agent network and overall sales. With each added dealer the garage cabinet maker gets closer to its goal of organizing every garage in America. Business owners interested in jumping into the expanding garage organization or home storage system market would be wise to look into the dealer opportunity offered by RedLine.