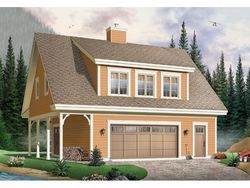 Certainly, the clients we've worked with in this situation over the past year are happy to have found a way to make ends meet period
St. Louis, MO (PRWEB) August 17, 2009
As foreclosure rates and unemployment levels hover at record-highs, many families have begun to combine households as a means to make ends meet. As a result, housing industry expert and President of the TheGaragePlanShop.com., Curtis Cadenhead, has identified a trend back toward garage apartment plans as a popular middle-ground solution that offers everyone a bit more breathing room without breaking the bank.
"We've definitely seen an increased interest in garage apartment plans since the recession began," said Cadenhead. "We've talked with customers looking for extra living space to accommodate new live-in relatives practically anywhere they can find it."
Beyond just recent college graduates moving back in with mom and dad due to the tough job market, this trend extends to people of all ages and income levels. According to a recent survey by AARP, 11 percent of survey participants between the ages of 35 and 44 reported living with their parents or in-laws. Eleven percent of those over the age of 50 said they were living with grandchildren or parents and 19 percent reported living with their children.
In addition to offering each party as much privacy as possible, the versatility of garage apartment plans makes them an even more attractive option to homeowners who may be concerned about what to do with the extra space should circumstances change once the economy turns around.
"The beauty of garage lofts and apartments is that they can transition so easily into a space with an entirely different purpose," said Cadenhead. "What begins as an apartment can become a workshop, a home-based business, a fantastic guest space or even a lucrative rental unit down the road."
Regardless of their future potential, garage apartment plans and garage plans with lofts are often the best possible solution for families who find themselves in newly combined households out of financial necessity. "Certainly, the clients we've worked with in this situation over the past year are happy to have found a way to make ends meet period," said Cadenhead. "But those who do decide to add on a garage apartment seem to end up happier and more satisfied in the long run. For a variety of reasons, people often find it to be a solution that's more than worth the initial investment."
About The Garage Plan Shop:
The Garage Plan Shop offers top-selling garage plans in a wide range of sizes and styles from many of North America's leading architects and residential designers. Its expert staff has been in the stock plan business for many years, and is committed to making the garage plan shopping experience simple and easy through exceptional design and excellent service. Visit The Garage Plan Shop for more information.
###