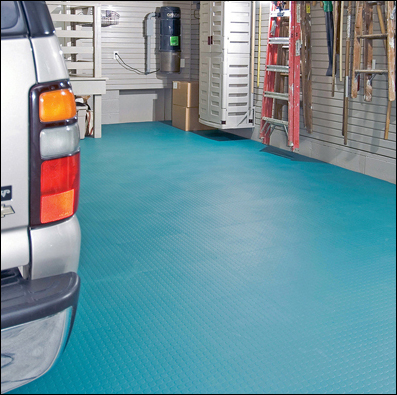 Richmond, VA (PRWEB) June 29, 2006
Tuff-Seal Garage Flooring has been announced by Flooring Adventures.
Tuff-Seal Garage Flooring is specially-designed to enhance the appearance, usability and value of residential garage space by creating a cleaner, brighter and warmer environment. Tuff-Seal tiles utilize a patented hidden interlock system that creates a locked, watertight and virtually seamless surface that will not crack, deflect or shift under heavy rolling loads of up to 500 p.s.i.
Tuff-Seal can be placed directly over concrete, wood or steel subfloors as well as over existing epoxy floor coatings. It hides cracks and stains and adapts to subfloor irregularities. Unlike epoxy floor coatings or rigid plastic tiles, Tuff-Seal does not require expensive or frequent repair or replacement. Tiles can be removed and replaced in seconds without cutting or disturbing surrounding tiles.
Tuff-Seal tiles are easily installed using a simple overlap and tap process. No adhesive, no special tools and minimal sweeping or vacuuming preparation are needed. One person can quickly install Tuff-Seal in a typical two-car garage in less than a day and use it immediately. Tuff-Seal can also be used in basements, below-grade areas, workshops, fitness rooms, kitchens, baths and other interior spaces.
Highly slip-resistant even when wet, Tuff-Seal muffles noise, insulates the floor and reduces dust, keeping garage, equipment and vehicles cleaner. It resists chemicals, automotive fluids, water, indentations and abrasions and is easily to maintain.
Tuff-Seal tiles are 18" x 18" (450 mm x 450 mm), ¼" (6.5 mm) thick, weigh 3.5 pounds (1.55 kg) and are available in four surface profiles (smooth, stud, marquis and diamond) and nine colors (blue, red, teal, taupe, black, light gray, dark gray, white and canvas).
For Tuff-Seal Garage Flooring information and samples, contact Flooring Adventures, 7453 Whitepine Road, Richmond, VA 23237, 877-779-2454, http://www.tuffsealtile.com.
# # #