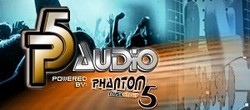 We are really fired-up about these scorchin' new sounds for Garageband since we started this new music samples inventory blitz
Los Angeles, CA (PRWEB) October 20, 2009
P5Audio.com is pleased to announce as part of their new product blitz, two additional sample sounds for Garageband that are more explosive than any music loops sets this year - available now for instant download.
"We are really fired-up about these scorchin' new sounds for Garageband since we started this new music samples inventory blitz," states P5Audio President, David Whiteside, "and these sounds are inspired by the music industry greats with the highest quality music production that our customers expect from P5Audio!"
With all P5audio music loops, they are preformatted for WAV, REX, and Apple Loops formats. They can be used with any music software that accepts WAV file format.
The two new music sample sounds for Garageband:
Wayne's Voodoo Rebirth Music Loop Set:
Wayne's Voodoo Rebirth Loop Sets contains music loop sets inspired by Lousiana's biggest Rapper, Lil Wayne.

25 Royalty FREE multi-track beats containing 306 loops total including the vocals, guitar and FX! They are all formatted for WAV, REX and Apple loops. All tempos and keys are provided.
Containing a Dirty South New Orleans Style made famous by Lil' Wayne.
7 loop sets with Wayne style female vocals including pitched vocals, sexy shout outs and auto-tune.
We also included 2 loop sets with screwed male Everyday is Halloween style vocals.
Most of the loop sets contain live bass and many feature live guitar.
All of the modern synths, banging drums , strings and brass come separated into their own track.
Dating back over 1500 years, The Didgeridoo is known as one of the oldest wind instruments in the world. Originating in Australia, The Didgeridoo is made from Eucalyptus trees which have been naturally hollowed out by termites.
"The Didgeridoo is so quintessentially hip hop! Its timbre, rhythmical nature and vocal nature are all so grimy," states Whiteside, "you can take any aboriginal riff, slap some hip hop drums on it, and create a hot hip hop beat. We are bringing you those authentic Didgeridoo grooves in this product!"
The unique Didgeridoo World Grime sounds are dirty, grimy, urban, gangsta
Didgeridoo World Grime Loops n Licks contain 219 Licks and 158 Loops!
Performed on multiple Didgeridoo instruments to give you different keys and timbres.
This product contains 10 tempos and all keys are included.
Formatted for WAV, REX and Apple Loops
For more information on these new music samples for Garageband:
Contact: David Whiteside
Visit: P5Audio.com
Phone: 1-888-884-8838
About P5Audio:
P5 Audio, leader in music sample sounds and loops, is committed to delivering professional products for the modern music producer - offering multi track music loops and sample downloads, hip hop samples, music loops and sample sounds for fruity loops, apple garage band, acid pro - ready to use in all major software sampler formats, as well as all music hardware samplers. 100% Royalty Free and available for Instant Download.
###