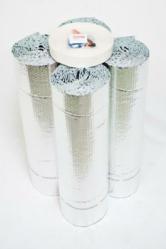 Indianapolis, Indiana (PRWEB) June 30, 2012
Insulation Stop has supplied radiant barrier and reflective foil insulation nationally for over ten years and the addition of new DIY kits to savvy homeowner is a natural progression. The garage door insulation kit is available in two configurations, white or foil.
"Garage doors are notorious areas within a home where energy is transferred and lost. Many homeowners have situations where they don't want their garages to transfer heat." stated Nick Semon, owner of Insulation Stop. "Typically the homeowner in the North is heating their garage space and wants to take measures to keep in heat. The homeowner in the South is probably trying to keep hot summer heat from radiating into the cooler garage space."
"We are excited to be offering this new solution. We know how much money can be saved if you are heating or cooling the garage space. In addition to ensuring the garage door weather-stripping is in good condition and makes a good seal as well as ensuring the garage itself is well sealed, garage door insulation is a great low cost product that will block the transfer of radiant heat."
"Our new kits come with a measuring tape, razor knife, as well as cleaning wipes and a double stick tape to make installation easy and trouble free. If you pay to heat or cool your garage, insulating the garage door is a low cost project that will pay for itself many times over."
For more information on radiant barrier and reflective foil insulation, please visit InsulationStop.com.
Nick Semon is co-owner of Insulation Stop. They offer individual and bulk orders of U.S. made radiant barrier and reflective bubble foil insulation products for commercial and residential use. The company is committed to offering extensive knowledge on the use and application of its reflective insulation products.