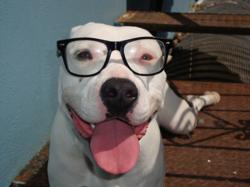 IT's AMAZING that adding a SIMPLE PUPPY mascot causes your garage door repair website to get almost an infinite amount of clicks... and is of course Completely dependent on the cuteness factor of the puppy... Carmen Gil 949-340-9695 SoCal
Orange County, CA (PRWEB) May 31, 2011
Garage Door Repair for many could be a very bland subject... so in an effort to spice things up the 2011 Omega announced its official mascot Whitey the cute & also considerably adorable puppy.
IMPORTANT NOTE: "Originally Omega GDS did not think that a Mascot could increase sales or the increase would be negligible, until the idea of the cute puppy."
Just quickly examine these reviews of the impact that adding a simple puppy as a mascot has with respect to garage door repair.
"Utilizing a puppy in such a way, complete with a set of 1960's black framed lenses is sheer brilliance claims, Ryan Lashlee Internet Marketer."
"The average American home owner finds puppies cute, to a factor that is almost incalculable... and therefore would be happy to have a company that supports puppies... also repair there garage door...Carmen Gil Administrator Omega GDS"
Whether it's springs that are broken or a door is just off track, Garage Door Repair fixes it all. Customers care that their garage door company is personable...give us a call @ (949)340-9695 or visit our garage door repair website. "We Don't Bite claims T. Henderson Omega's Founder."
###