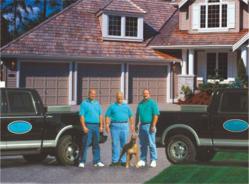 Garage door spring repair is our most common request and we just wanted to offer our clients a really great deal.
Orlando, FL (PRWEB) June 29, 2013
Quality Garage Door Services is one of the top garage door repair companies in the Orlando area and they are having a one week special with $75 off of garage door spring repair and replacement. The company makes it very simple to get these internet only garage door specials. When a customer calls for a free quote they just need to mention the internet only special and they will immediately get the discounted price. Lex Pierce, Jr., one of the owners of Quality Garage Door Services says, "We want to make it easy for our customers to get their garage door fixed so we offer same day service at a really low price, especially when you take advantage of our online specials."
Quality Garage Door Services is one of the leading garage door companies serving Central and South Florida. They serve clients all the way from the west coast of Florida in the Tampa Bay area to Central Florida in Orlando and then all the way from Daytona Beach down to West Palm Beach. Mr. Pierce says, "We cover a large area but are still a family owned business offering the very best in garage door repair and installation and give our customers the very best garage door products at the lowest possible price."
The company website offers a large amount of information that is beneficial to all potential garage door clients. Visitors can get information on all of the different services available and also see all of the current garage door specials offered by the company. Also, the website has a door gallery section where customers can build their new garage door online and see all of the current makes, models and styles of the new garage doors available today. In addition, the website has reviews from many of the company's previous customers detailing the company work ethic and attention to detail.
Quality Garage Door Services also offers free phone quotes and can be reached at 407-895-0022. In addition to garage door repair they also offer the following services:
Garage door repair and replacement
Garage door spring repair and replacement
Garage door opener repair and replacement
Both custom and ready-made new garage doors
Commercial garage doors and garage door service contracts
About the company:
Quality Garage Door Services is a state certified, licensed and insured garage door company (CRC1329903). They provide residential and commercial garage door repair and installation throughout Florida. The company is family owned and operated with over 35 years of garage door experience.
How to contact the company:
Quality Garage Door Services
43 N Dollins Ave
Orlando, FL 32805
407-895-0022
http://qualitygaragedoororlando.com
http://www.youtube.com/watch?v=US7zuAEMEE0
Marketing and Media Contact:
Tom Parker
813-421-4259
http://garagedoorleads.org
###