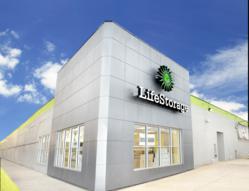 Chicago, IL (PRWEB) August 09, 2012
LifeStorage, Chicago storage provider for home and business, records management and office solutions, is holding a Garage Sale Event at its Hermosa location (4500 W. Grand Ave., Chicago, IL) on Saturday, August 11th, from 10am-3pm. This will be LifeStorage Hermosa's first Garage Sale, and Store Managers Mario Alequin and Yecy Morquecho are expecting a healthy turn out after promoting the even by word of mouth, fliers, emails, and even inviting people in the neighborhood who were holding their own yard and garage sales. The event is open to both LifeStorage customers and community members alike at no charge. Refreshments and snacks will be provided as well.
"We came up with idea to generate more business and we also heard that other facilities had a garage sales that were successful. We know a lot of our sister stores have tried this and it always seems to generate positive buzz," Alequin said. "Our peers that have already tried their hand at this have offered wonderful support, and Yecy and I think we're ready to make this event a huge success."
For LifeStorage, giving back to its customers is a major priority, as is giving back to the community. By holding Garage Sale events, it allows customers to clean out some space from their units and community members to clean out space from their homes and garages. It's also a great way for those unfamiliar with LifeStorage to come and see what great storage at affordable prices looks like, with a high-end approach to self-storage.
LifeStorage Hermosa in particular sees this as a an excellent way to expand its customer base and to hopefully create a lasting impression of its facility. "The Garage Sale has the potential to provide stability, loyalty, and it build relationships so that our customers can refer more family and friends. It shows that we give back, care, and want this community to prosper in a positive direction," Alequin said.
"It's very important that we show that our facility is one of the best places to store your most prized possessions. You can leave your items here and not worry. We do these events to show that this is not just a corporation about money but a company that cares and wants to provide the best to everyone and see the surrounding community grow and be prosperous."
For more information on the Garage Sale event, please call either LifeStorage Hermosa at 773-235-8400.