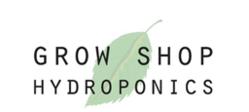 One major supplier, General Hydroponics, serves as the leading innovator in educating people about hydroponics
South San Francisco, CA (PRWEB) October 21, 2011
Grow Shop Hydro is a one-stop San Francisco hydroponics garden store that carries all kinds of major suppliers from Sun System, General Hydroponics, Botanicare, Grodan, Fox Farm, Hortilux, Can Max Fans and many more. During October, they are offering Halloween specials in which customers can receive 30 percent off on selected items that will help customers start or expand their gardening hobby.
The ultimate garden store in South San Francisco, Grow Shop Hydroponics provides information on how to start, grow and manage a hydroponics garden that does not use soil.
"One major supplier, General Hydroponics, serves as the leading innovator in educating people about hydroponics," said Joe Chu of San Francisco Grow Shop Hydroponics. "They continue developing new nutrient formulas and systems for research facilities and universities to open up the eyes of the people and recognize the positive effects of a hydroponic garden on the environment."
The hydroponics store carries a wide selection of products from nutrients, equipment, general hydroponics, indoor grow room lights and grow room tents. Along with the wide range of products, the owners are friendly and knowledgeable and can advise clients on how to manage and protect hydroponic gardens.
Grow Shop Hydroponics also carries Botanicare products that provide fertilizers, supplements, grow substrates systems, plastics, accessories and organicare to help clients start a hydroponics garden. Clients should have the knowledge and information on how to successfully manage and protect hydroponic gardens and Grow Shop Hydroponics can offer this information and education to all those interested.
For more information about the different suppliers Grow Shop Hydroponics carries, call (650) 534-2583 or feel free to visit the shop at 131 South Maple Ave., Unit # 3 in South San Francisco, CA 9480.
About Grow Shop Hydroponics
Grow Shop Hydroponics is a full resource and garden store for fertilizers and nutrients. More than just a San Francisco hydroponics store, the store offers key growing ingredients for general hydroponics, reliable equipment and an in-the-know staff to help all types of growers succeed.
###