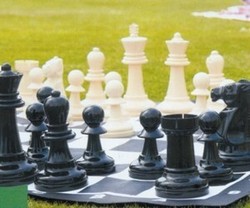 (PRWEB) July 12, 2009
Online garden centre Dobbies.co.uk has slashed the online price of many of its garden games by 20%.
Among the discounted items is the Tumbling Tower Game for £49.00. It contains 56 bricks (18cm x 4cm x 6cm) and builds from approximately 75cm to as high as the player dares! The object of the game is to build the tower then take turns to remove a brick at a time without making the whole tower tumble.
Traditionalists might enjoy the Giant Chess Game, priced at £29.00. The set contains a full complement of chess pieces (10cm to 20.6cm tall) and an 89cm x 89cm PVC board mat, with carry box.
For something simple to learn but still challenging for the whole family there's Giant Garden Draughts for £20.00, with heavy duty interlocking foam pieces to make a 122cm square board.
Snakes and Ladders is an old favourite but players should expect the unexpected with Giant Garden Snakes and Ladders from Dobbies.co.uk (£29.00), with hazards, such as: 'Bitten By The Dog' and 'Falling Down The Hole'.
Other discounted giant versions of classic games include Giant Dominos for £15.00, or Giant Garden Noughts and Crosses just £10.01.
Among the more modern favourites are Garden 4 in a Row (£29.00), the Giant Garden Crossword Connect Garden Game (£25.00), and Garden Games Jamanga with Dice (£39.00).
Croquet has long been a popular sport for summer lawns and Dobbies.co.uk offers a traditional croquet set in a quality canvas carry bag for £49.00. The set contains four 96cm mallets, nine hoops, four stakes and four balls.
Darts isn't generally associated with the garden in summer but the Giant Garden Lawn Darts (£20.00) could change that. The set consists of six giant weighted darts with weighted tips, two target rings and one starting ring.
For those who have a hard time deciding there's the Garden Games Compendium of 5 in 1 for £29.00. This contains five big games in one set, including: 3ft square Snakes & Ladders game with a giant dice; 3ft square Jumbo Noughts & Crosses game; 3ft square Draughts Board; Ring Quoits game.
To see the full range of garden games, garden furniture and barbecues available from Dobbies.co.uk, visit http://www.dobbies.co.uk.
###