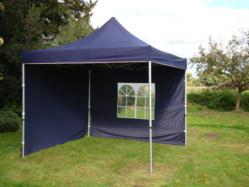 I was looking forward to seeing the results of the Pop-Up Gazebo 'Tried and Tested' feature because I knew our model would perform well
Solihull, West Midlands (PRWEB UK) 18 August 2012
Whatever the occasion, be it an anniversary or birthday party, a garden gazebo is a must for any special outside event. Garden gazebos provide excellent shade and block unwanted breezes for alfresco dining, but which one should you choose?
Julia Heaton, Consumer Editor for Amateur Gardening Weekly, rolled up her sleeves to test 6 pop-up garden gazebos from respected and well-known brands. The head-to-head gazebo showdown set out to test four essential areas; build, features, performance and value.
The Garden Furniture Centre Ltd was first approached to supply a gazebo for demonstration purposes in May by the magazine; ready for the review in July. Jon Haimes, Managing Director of the firm, said "I was looking forward to seeing the results of the Pop-Up Gazebo Tried and Tested feature because I knew our model would perform well. After seeing the results I was very pleased; especially with the comments of superb quality by the editor of the magazine. We pride ourselves on supplying quality garden furniture products and we received the highest marks for build quality."
The build quality of any outdoor furniture is essential to the buying decision and particularly so with a pop-up garden gazebo. Price is also an important factor so this has to be balanced with the build quality in the final purchase decision. There's no doubt though; you do generally get what you pay for.
The pop up gazebo is a popular choice for many home garden events because they can quickly be put up and taken down in 10 – 15 minutes. The firm's gazebo was highly praised for the number of features and as a result received a 5 star rating, which was the joint highest in the test.
The magazine's highlights of the firm's 3M x 3M pop-up gazebo on test was the strong 4 cm diameter aluminium frame, heavy duty pegs, supplied curtains and the canopy colour choices; arctic white, navy blue and forest green.
The final marks for the company's pop-up gazebo were a very well earned 18/20. Superb quality was the stand out benefit for any would-be purchasers.
For the full garden gazebo review visit the Garden Furniture Centre Blog – A great source for gardening ideas and tips.
For additional information contact the Garden Furniture Centre Ltd directly.
Web: GardenFurnitureCentre.co.uk
Tel: 01564 793652