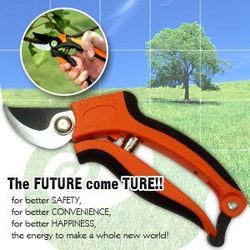 (PRWEB) August 7, 2008
Starting its garden tools business in 1977, Jiin Haur Industrial Co., Ltd., with a strong R&D team, customized services and highly efficient management, steps out toward international gardening markets, standing firmly with its impressive horticultural/gardening tools in this competitive stage for more than three decades.
With a great amount of effort in the gardening business, Shyh-Biau Wu, the chief president of Jiin Haur, set up this company for carrying out his great idea and put his ideal into practice by producing products from garden tools and trimmers to grass shears, floral pruning shears, pruning shears, garden knives/sharpeners, lawn mowers, multi-function shears, long reach pruners, outdoor equipment, walking sticks and categories of handy garden tools.
Always keeping its eyes open to view each customer's demand, Jiin Haur excels itself at observing every detail from gardening activities, inclining to solve each problem for horticultural tools and attempting to enhance every step of the process while users work in his/her gardens. Customer-oriented--it's the way Jiin Haur treats its clients well; it aims at designing handy and multi-function tools to make the users experience joy and ease in use.
Jiin Haur also pays much attention to import premium quality material--Japanese carbon steel--to strengthen the blades of its shears, which are designed tough enough to withstand abrasion against most metals. This includes Leafage/Grass Shears, which is made of high carbon SK-7 steel, is designed with non-slip (rubber) grips for both left and right hand users, and even, with various stylish shapes, for both men and ladies. And, honorably approved by GS, TUV, CE & VPA certifications, Jiin Haur's garden tools are highly reliable and convenient for users, being recommended by customers from Europe, America, Japan, Mid-East, India, etc.
Due to its concern of high-value production and environmental protection, Jiin Haur never stops innovating its producing process. It insistently installs high-quality and high-accuracy machines, including an auto shearing testing machine for full-automatic mass production, micro hardness tester and spring testing system, which all effectively guarantee the best stability and resistance.
--Handy Garden Tools
Jiin Haur takes lots of effort to produce diverse thoughtful devices, the the 6-3/4" By-Pass Pruning Shear (JH-611-1) is one of its main products. Made of high carbon SK-5 steel, the upper blade of this pruning shear is delicately polished while the lower blade of it is in orange and black. With its plated chrome body, this By-Pass Pruning Shear can undertake the hardness testing with and withstand abrasion against most metals.
Another major product--the 6-3/4" Floral Pruning Shear (JH-612-1)--is favored by not only individual users, but professional horticultural, governmental, and industrial users all over the world. With a non-stick PTFE coated blade, the handle of this Floral Pruning Shear is also anodized with other high-level materials: nylon/fiberglass combined with soft TPR grips. Th plastic lock and locking features of this Floral Pruning Shear is thoughtfully designed for safety and storage.
According to its concern of producing advanced gardening tools with safety-oriented functions, all the tools in Jiin Haur feature customer-friendly designed shape and functions, being noted for this thoughtful specification. Take the 8" By-Pass Pruning Shear (JH-812) for example, the device of thumb-oriented safety and of soft TPR grip makes this comfortable and ergonomic to use for both adults and kids.
Best but not only, the Knife Sharpener with Suction Pad (JH-016B), which is manufactured with zinc alloy body as well as with ABS plastic handle for safety, is designed for resharpening or tune-up the accuracy for devices like gardening knives and shears, grinding the these knives/shears while they're blunt. In addition, the Suction Pad gives this Sharpener stability and makes sharpening a hassle-free task.
In the future, Jiin Haur will take more attention to R&D development, factory management, more flexible marketing policies to fulfill every client's request, attempting to draw more attention from the competitive markets and continuously showing markets the best service and gardening tools by Jiin Haur's advanced innovation.
Please visit allproducts.com Press Room for further information.
# # #