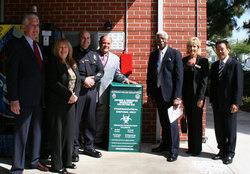 Los Angeles, CA (PRWEB) April 17, 2010
The City of Gardena's Mayor Paul Tanaka, Mayor Pro-Tem Dan Medina and Police Chief Ed Modrano along with El Segundo's Mayor and Council member Margaret Estrada from Lomita, unveiled their new mail-box to drop off drugs, which will be destroyed by the Sheriff's Dept.
Mayor Pro-Tem Dan Medina, Police Chief Modrano and his officers worked diligently to put this project together to help their community safely dispose of toxic prescription and illegal drugs. People are getting rid of unused drugs by flushing them down toilets or down the sink and these chemicals end up in the water system. This project will contribute to safe California waterways free from contaminants reaching the public through the water system and out of the hands of unsuspecting youth who may think these prescription drugs are a safe way to get "high".
Mayor Tanaka asked the public to make sure when dropping off their prescription drugs that they are in the original container with the original label. When dropping off illegal drugs, please have the package marked with the name of the drug. Needles cannot be dropped off at the City of Gardena location.
Ms. Teddy Chambers of Narconon International was invited by Mayor Pro-Tem Dan Medina to join the celebration for their "Safe Drug Drop Off" project which follows the launching of this project by LA County Sheriff Lee Baca last year. Narconon supported this event with drug education materials for government officials, school administrators, students and citizens. Chambers said, "I have received many calls with the question, "How can I get this project in my city? It's exciting to watch this project expand as we now have the cities of Lomita, Gardena and El Segundo all participating in this program."
Narconon is here to help increase the awareness of the dangers of prescription and illegal drug use.
For more information on the Safe Drug Drop Off Campaign or Narconon Drug Education Programs, contact Teddy Chambers at (323) 323 819-6010 or visit http://www.narconon.org.
# # #