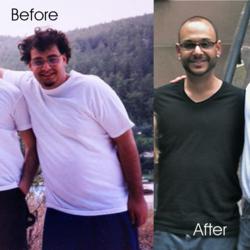 I was able to lose over 100 pounds by incorporating acupuncture, Chinese herbs, and nutritional changes into my daily life.
-Alex Goldberg
Brooklyn, NY (PRWEB) December 12, 2012
The whole month of January, Garden Acupuncture in Park Slope, Brooklyn is offering 20% off their self-proven weight loss plan. In addition, the initial intake and treatment are only $100, regularly $130.
The Protocol Includes:

Three months of acupuncture treatments
Herbal formulas
Nutritional counseling
All necessary adjunct therapies such as electric stimulation, ear seeds and gua sha.
Free copy of the weight loss guide book "Your Health, Your Weight, Your Life", written by Garden Acupuncture practitioner, Alex Goldberg, LAc.
In addition to having used their own weight loss plan successfully, GA practitioners have have trained in Beijing, China with doctors who specialize in treating obesity. Acupuncture and Chinese herbal formulas work together to help curb cravings, increase energy and metabolism, improve digestion, decrease fat in specific areas and enhance overall health.
To book your appointment online click here.
Garden Acupuncture is a family run, small business in the heart of Park Slope. They pride themselves on individualized, affordable treatments and are committed to offering the best holistic care to the local community.
790A Union St (between 6/7th Ave)
GardenAcu.com
646.234.3643
Specializing in fertility medicine, weight loss and allergies using acupuncture, Chinese herbal therapy and nutritional counseling.
Garden Acupuncture is a proud member of the SUNY PerksCard Program.