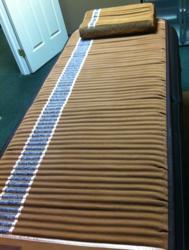 The BioMat at Garden Acupuncture is amazing. After one session my energy is better and the neuropathy in my feet has improved.
-R.S.
Brooklyn, NY (PRWEB) January 30, 2013
Garden Acupuncture in Park Slope, Brooklyn is now offering far infrared heat therapy to all acupuncture patients free of charge. The BioMat is made by Richway International Inc. and has been approved by the US FDA as a thermo-electrotherapeutic medical device used for enhancing the immune system by generating far infrared rays and negative ions.
According to numerous independent studies documented by Richway, the BioMat has been shown to improve health in the following ways:
1. Enhance immune function by stimulating mitochondria and HSP
2. Increase blood circulation
3. Decrease pain and fatigue
3. Reduces stress hormones by 78%
4. Cleanse the blood by facilitating cellular metabolism
To book your appointment online click here.
Garden Acupuncture is a family run, small business in the heart of Park Slope. They pride themselves on individualized, affordable treatments and are committed to offering the best holistic care to the local community. They also accept insurance.
790A Union St (between 6/7th Ave)
GardenAcu.com
646.234.3643
Specializing in fertility medicine, weight loss and allergies using acupuncture, Chinese herbal therapy and nutritional counseling.
Garden Acupuncture is a proud member of SUNY Perks Card program.