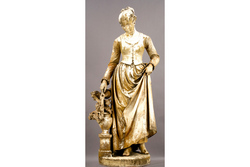 "On the heels of Philadelphia's Flower Show, our annual Antique Garden and Architectural Auction has become a springtime tradition here and is an established source for both professional and individual buys across the country."
Philadelphia, Pa. (PRWEB) March 23, 2010
On Saturday, April 24th, Kamelot Auction House, one of Philadelphia's premier auction companies, will host the annual Antique Garden and Architectural Auction. This perennial April sale is one of the most important garden-themed antiques markets in the nation, and attracts private collectors and top dealers internationally. Doors open at 9am on Saturday April 24th and bidding begins at 10am. The public is invited to preview the items on April 21, 22, 23. All are welcome.
"On the heels of Philadelphia's Flower Show, our annual Antique Garden and Architectural Auction has become a springtime tradition here and is an established source for both professional and individual buys across the country," said Jeff Kamal, President and CEO of Kamelot Auction House. "The sale offers residential gardeners an opportunity to furnish their outdoor living areas with flair and originality, and offers professional designers and seasoned auction-goers rare and very special garden antiques."
Kamelot Auctions' 15,000 square foot showroom is overflowing with unique displays of garden and architectural elements including antique and vintage carved stone planters, urns, fountains and statuary, fine bronze and ironwork furniture, outdoor fixtures, birdcages, stained glass, lighting and a large collection of industrial tables and vitrines.
This annual auction event also promises a unique selection of antique architectural iron, including a heavy Furness-style four-paneled iron gate from the nineteenth century—purported to have been an original feature of a historic Philadelphia area estate, and an iron balcony from France having exactly the same design as those displayed on the façade of the Louvre.
The auction also will include:

An exceptional and monumental antique American Victorian iron urn
An Oscar Bach marble and bronze conservatory table
An antique conservatory table circa 1885, marked "Perth Amboy Terra Cotta Co."
A pair of bronze lidded urns circa 1920 on square bases
A pair of Grand Tour sienna marble columns
A Rosa Verona marble bench with lion-form bases
A large antique Colebrookdale verdigris bronze-clad urn
A pair of well-proportioned nineteenth century lead putty figures
Dozens of life-sized marble, iron and bronze statues
The catalogue for the Antique Garden and Architecture Auction including photo galleries and detailed descriptions of every lot can be viewed at http://www.kamelotauctions.com. For more information about this sale, or to inquire about how to participate in an upcoming event, call 215-438-6990.
Media may contact Kamelot Auction House publicist Kristi Hughes at Kristi(at)manavistapr.com or 215-816-2954 for more information.
About Kamelot Auction House
Kamelot Auctions is located in an historic Atwater Kent Building in Northwestern Philadelphia. Acclaimed by private collectors and professional buyers nationwide, the company was founded in 2003 by art collector Jeffrey Kamal. Kamelot Auctions has flourished as a dependable source of quality material for all manner of fine design aficionados. Regular sales events by Kamelot feature French and English furniture, mid century modern, industrial and studio-made furniture, fireplace mantles and accessories, other interior and exterior architectural fixtures, lighting, rugs, and many categories of decorative arts in silver, porcelain, crystal and bronze, as well as fine art objects and paintings. For information about consigning, call 215 438 6990 or email info(at)kamelotauctions.com.
###