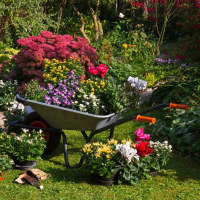 Now our customers can meet all their gardening needs in one place, and their shopping should be much simpler for it.
Lancashire (PRWEB UK) 29 April 2013
If you've been a customer of GardenCentreOnline.co.uk over the years, you'll likely have seen them grow considerably. Since their emergence in 2005 they've gone on to become one of the UK's leading suppliers of gardening tools, garden equipment and accessories, recently benefiting from acquisition by MBL Group Ltd.
With the successful growth the company has experienced over the past eight years, they're consistently looking to ways to expand further, and better meet the needs of their widespread customer base. With this goal in mind, the company recently announced a major product expansion into organic stock, now providing a wide variety of trees, shrubs, plants, bulbs and seeds.
The company have rolled out a comprehensive product line, so consumers have a wide range to pick from. A variety of mature trees and shrubs are available for immediate planting, along with seasonal flower beds and bedding throughout the year. One portion of the new store covers more architecturally focused feature plants, such as hanging baskets or climbing species. Another portion of the store offers seeds and bulbs, or Grow Your Own vegetables and fruits for enterprising consumers seeking for a little more self-sufficiency and money saving opportunities.
A representative from the company was available to comment on the recent and sizeable expansion. 'Many of our customers have proved extremely loyal over the years, and are clearly enjoying the products and services we provide them. Considering our range of gardening implements and architecture we sold it always felt like we were missing an opportunity with organic products. Now our customers can meet all their gardening needs in one place, and their shopping should be much simpler for it.'
With a late spring just beginning to take hold, GardenCentreOnline.co.uk are advising customers to take advantage of the prolonged planting season while opportunities still present themselves, and think about what planting goals they could achieve over the coming season.
GardenCentreOnline.co.uk have been selling planting equipment and accessories since 2009, currently trading nationwide from their headquarters in central Leyland. With their recent expansion into trees, plants and seeds they hope to see consumers more impressed with their range than ever before.