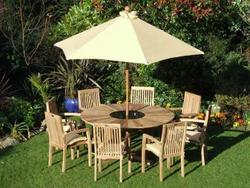 There really are a lot of dangers in outdoor entertaining
Elstree, UK (PRWEB) July 2, 2008
Summer entertaining is in full swing with family barbeques, holiday celebrations around the world, and nice weather beckoning people to outdoor gatherings. Outdoor entertaining may mean more time with family and friends for some, but it can also pose dangers.
The garden and patio furniture experts of the UK's Faraway Furniture want to do more than sell customers their outdoor furniture for entertaining - they want consumers to be safe this summer. To help, they're offering a collection of free tips on how consumers can make safer outdoor entertaining choices.
"There really are a lot of dangers in outdoor entertaining," says Naomi Aharony of Faraway Furniture. "The positive side is that these dangers can be avoided with often simple planning before holding an outdoor party, picnic, or other event."
Faraway Furniture offers the following free tips for safe summer outdoor entertaining:
1. Food - It's important that certain foods be kept chilled or taken inside before too long. Certain types of foods carry the risk of causing food poisoning if they're left out too long in the summer heat. These can include foods like potato and pasta salads, cheeses and other dairy products, and meat (try to only cook up meat that will be eaten soon after, and bring any leftover raw meats inside (or put it on ice) to be cooked later.
2. Furniture - If using patio or garden furniture, such as for a family party in the back yard, inspect it carefully before the party (especially if this is the first time it will be used for the season). To avoid injuries, make sure wood isn't splintering and furniture is sturdy. It's also a good idea to ensure there aren't any sorts of nests or infestations on or around the furniture and eating area.
3. Insects - A little bug bite might not be a big deal for everyone, but there are exceptions. Those allergic to bees, for instance, can have severe reactions to bee stings. Other bugs have been known to carry diseases. If nothing else, insects can be an annoyance during outdoor entertaining. Instead of using toxic chemicals or candles (a potential danger in their own right, especially if the party involves children) consider using herbs and other plants, or normal household materials, to repel insects. For example, fresh basil is known to repel mosquitoes and flies (making it ideal to be placed on a picnic table). Lavender can help to repel ticks and moths. While plants are more likely to attract bees than repel them, you can keep them away from your food with dryer sheets placed on the table or near it (bees don't like the scent).
4. Fire Hazards - Outdoor entertaining can pose a fire risk, with grills to bonfires being common attractions. Always make sure grills are clean and supervised, and that no open fires are ever left unattended. Don't throw things into bonfires, and make sure there are no overhanging plants that might be too close to the flames. And of course, keep children at a safe distance at all times.
About Faraway Furniture:
Faraway Furniture, launched in 2003, offers exclusive and exotic collections of outdoor garden furniture and home furniture from the finest sustainable resources. The company prides itself on creating beautiful and practical contemporary designs crafted from durable teak and other woods. In addition to an emphasis on customer service, Faraway Furniture helps customers "live green" by allowing them to feel good about their purchases knowing the company directly helps to replenish the resources used in the creation of their furniture through the planting over 2500 trees so far.
For more information about Faraway Furniture or outdoor entertaining and garden furniture safety, please visit http://www.FarawayFurniture.co.uk or contact Naomi Aharony at 0845 2342323.
###