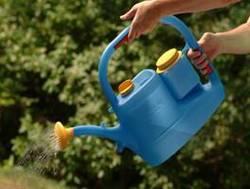 As a manufacturer and cost-conscious consumer, I intend to only make products that I would buy and use myself.
Chicago, Ill. (Vocus) August 18, 2009
The U CAN Brand LLC, a new company creating innovative gardening products, today introduced here at booth T54 of The Independent Garden Center Show 2009 an "all-in-one" watering can that handily connects watering and fertilizing.
The U CAN® Watering System (or "The U CAN") is a new gardening tool that uniquely minimizes mess and enhances convenience. It easily stores any kind of fertilizer -- water soluble, dry or liquid -- and even reminds gardeners when to fertilize again.
The U CAN smartly stores a measuring spoon with a handle that skillfully provides skin protection. The spoon is housed within a conveniently accessible four-ounce measuring cup that cleverly pops up to greet the user. Capable of holding two gallons of water, The U CAN has comfortable rubber handles and molded fingerholds engineered to evenly distribute weight while carrying, lifting and pouring. Furthermore, it organizes gardening processes with special storage locations for the removable sprinkler head and gloves. An optional lid and pump accommodate liquid fertilizer.
The U CAN is so highly useful and innovative it was awarded seven design patents (additional design and utility patents are pending). Committed to supporting manufacturing in the United States, the company chose to have the U CAN's parts produced in Illinois, Iowa, Massachusetts, and New York. The watering can proudly displays the trademark "Keep America Growing." To minimize its carbon footprint and honor the green movement in our country to protect our natural resources, the U CAN incorporates the use of recycled plastic.
According to a recent study by the National Gardening Association, 11 million households purchased watering cans last year. The 2009 Late Spring Gardening Trends Report by the Garden Writers Association noted that "almost half of American households with a yard or garden planned to add or expand their vegetable garden in 2009."
Within this market, The U CAN is ideal for both avid and novice gardeners in many niches, including those committed to what may be a sustainable trend of growing their own food. Other market applications for The U CAN include container gardening, patio gardening , hanging baskets, raised beds, poolside gardening, window boxes, and easy maintenance summer-home gardens. Apartment renters, condominium owners, shop owners, municipal building managers and community gardeners in particular would benefit from the combined capabilities and features of The U CAN.
The U CAN is also available for direct purchase through the company's website, http://www.TheUCanBrand.com ], at $29.95, plus shipping. An optional lid and pump to accommodate liquid fertilizer is available for an additional $5.95. A perfect holiday gift idea, it is also sold through select nurseries, garden centers, and hardware stores with a suggested retail price of $34.95.
About the Company Principal and His Philosophy as a "Thought-Leader"
The U CAN Brand LLC was founded in June 2009 by its president, Jim Ugone, to innovate and sell affordable, highly purposeful gardening products of excellence.
A graduate of the Stockbridge School of Agriculture and The University of Massachusetts, Ugone also earned a master's degree in vocational education from the University of New Hampshire. He taught vocational horticulture for nearly ten years before entering the world of finance. He then began his career of providing financial advice to clients primarily in the green industry, and today remains a passionate gardener.
"As a professional investment advisor, I garden to relieve stress as many Americans do. While spending many hours on my knees I'm always thinking of ways to make gardening easier and more enjoyable to others. The U CAN was born out of personal experience and necessity," Ugone notes. "As a manufacturer and cost-conscious consumer, I intend to only make products that I would buy and use myself."
For more information about the unique all-in-one watering can, contact: Cyndi Deal, Vice President, Finance & Marketing, http://www.TheUCanBrand.com, 978-887-4191.
For additional press information, contact:
Cyndi Deal
Vice President
Finance & Marketing
The U CAN Brand LLC
P.O. Box 24
Topsfield, MA 01983
978-887-4191 (Phone)
978-887-9507 (FAX)
# # #