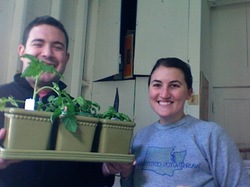 "...Your Garden Show is in its own brand spanking new category." TheDailyBasics.com
San Francisco, CA (PRWEB) June 2, 2010
YourGardenShow.com, the world's first social media platform dedicated to gardens and their cultivators, launches from its San Francisco headquarters after two years in the making. This interactive website features an expansive 6,000 vegetable database developed by Cornell University (778 varieties of tomatoes!) and a 5,900 ornamental plant database powered by Missouri Botanical Garden, one of the oldest botanical gardens in the U.S.A. The site is free to use.
With gardening the most popular leisure time activity in the English-speaking world, YourGardenShow.com aims to unite the 25,000 square miles of America's gardens and beyond, encouraging passionate gardeners to "show and tell."
"Gardeners visit over the virtual garden gate -- with one click of a finger you can be transported from an Italian Grand Garden to a vertical window garden in downtown New York -- everyone's got something to share," say husband and wife co-founders Tom Finerty (Emmy-Award winning producer) and Lisa Marini (Master Gardener).
Members share their gardening activities and legacy through photos and videos while tracking their garden's progress and growth on their Garden log -- or 'GLOG,' a fun timeline journal developed exclusively for the site. YourGardenShow.com offers hyper-localized features, making it easy for gardeners to identify their unique local climate and plant hardiness zones and showcases what other gardeners in the region are planting and when. Interactive possibilities on the site are endless -- the most exciting of which is the Phase II addition of the Citizen Science initiatives, co-developed with the nation's top environmental leaders.
YourGardenShow.com is supported by a growing team that includes 'Groundskeeper' Mark Kane, former Executive Garden Editor of Better Homes and Gardens. "Creating a resource and network of global 'neighbors' trading tips and spreading green thumb wisdom is a fantastic tool for the growing worldwide gardening community," says Mark.
YourGardenShow.com was developed by Pivotal Labs (Twitter) and Hot Studio (Ancestry) in San Francisco.
Visit YourGardenShow.com
For more information and local interview opportunities:
Contact Ann Trueheart at +1 415-738-2476, or email media(at)yourgardenshow(dot)com
For multimedia embed assets, please go to: blog.yourgardenshow.com/Press/
###