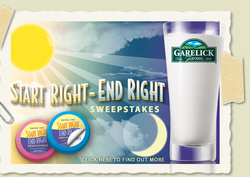 The Start Right-End Right program encourages families to start off the New Year by forming good habits, every day
Franklin, MA (PRWEB) January 26, 2009
Garelick Farms announces "Start Right-End Right" $25,000 Sweepstakes to promote daily personal and family health and wellness in the New Year.
"The Start Right-End Right program encourages families to start off the New Year by forming good habits, every day," stated Amy Godin, Marketing Manager, Garelick Dairy Farms. "We hope that the health message encourages individuals, parents and their kids to begin their day with a great tasting breakfast and end their day with a delicious snack - both of which include Garelick Farms' milk."
The dairy's collaboration with Kraft Foods® includes coupons for healthy snacks set to reach consumers in mid to late January. Featured Kraft brands include Nabisco 100 Calorie Packs®, Newton's Fruit Crisps® and Teddy Grahams Snacks®.
http:Garelick Farms is also offering a sweepstakes giving consumers a chance to win a $25,000 Visa® gift card that they can use to build their dream kitchen and ultimate home entertainment center. Consumers who collect the caps from Garelick Farms milk can enter promotional codes at Start Right-End Right to participate. The sweepstakes launches in January of 2009, and runs through the end of February 2009.
Garelick Farms products are currently sold in supermarkets and convenience stores throughout New England and sections of Upstate New York. For a complete list of retailers and recipes, to download a coupon or enter the sweepstakes, go to Garlick Farms.
Garelick Farms, headquartered in Franklin, Massachusetts, is one of the largest dairies in the northeastern United States, with a proud tradition of providing fresh, local dairy products to New Englanders since 1931. Garelick Farms offers a broad line of products, including milk and cream, flavored milk, juice, egg nog and Over The Moon milks.
###