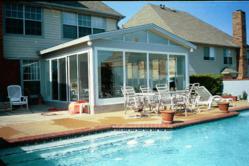 We value customer satisfaction, which is the reason why each of the team members is committed to service.
Garland, Texas (PRWEB) January 08, 2013
Garland Sunrooms & Patio Enclosures has recently launched a new sunroom installation service in Garland, Texas. As the real estate market has not fully recovered, more people are staying in their homes for longer periods of time. Launching a full service sunroom installation and maintenance department covering the Garland area provides an affordable and high use method of raising a homeowners property value so they can further enjoy their home.
Sunrooms provide homeowners a place to view their surroundings protected from the wind, rain, bugs, and outdoor elements. Sunrooms, if beautifully designed and installed with care, can increase the resale value of a home, which is why finding an honest designer and expert installer is imperative. Garland Sunrooms & Patio Enclosures provide homeowners with superior products and their new service offering that ensures a quality sunroom installation.
Garland Sunrooms promises to deliver optimum satisfaction whether with their existing products or the new service offering. The staff ensures superb and personalized service so homeowners can own a beautiful sunroom. With a highly trained installation crew, customers can undertake home improvement projects without worrying about the inconvenience of construction.
"Our team offers complete installation packages, a combination of beautiful sunrooms and highly skilled installers to provide sunrooms solution to all types of homes," says the company representative. "We value customer satisfaction, which is the reason why each of the team members is committed to service."
Because of this, customers looking to add a sunroom to their home need not look any further for their sunroom installation needs. In fact, homeowners can safely rely on the knowledgeable staff and many years of experience of the installation crew.
Garland Sunrooms & Patio Enclosures offer of a wide range of products and the new sunrooms installation services has turned them into one of the highest recommended local contractor for all outdoor products and services.
About Garland Sunrooms & Patio
Since 1993, the company provides quality custom-built sunrooms as well as different outdoor products ranging from lattice covers, patio covers, decks, screen rooms and more. Garland Sunrooms new sunroom installation services offer homeowners quality results.
For more information about the new sunroom installation services, please call (972) 395-5873 or visit the website http://www.garlandsunroomenclosures.com.