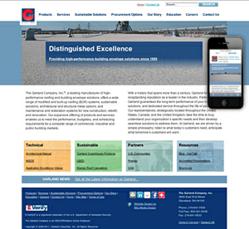 We wanted our new website to reflect the true Garland business model. We provide you with in-depth information on our solutions and deliver it in a format that allows you to quickly and easily identify what you're looking for.
Cleveland, OH (PRWEB) April 16, 2012
The Garland Company, Inc. recently launched a new corporate website – http://www.garlandco.com – featuring a refreshed design that provides quick and easy access to information on our expansive line of high-performance building envelope products and solutions. The company's most popular links, which range from their architectural manual to application videos to Garland sustainable products, are now accessible from the homepage, providing visitors with instant access to the information needed.
Garland's comprehensive product section features drop-down menus for each product category in addition to detailed product information in an easy-to-read format that allows visitors to quickly identify product advantages, technical data, and product approvals. Each product page also features an information request form that can be used to submit questions or comments with a quick click of the button. That information is then forwarded on to the appropriate Garland representative, who will address inquiries in a timely manner.
"The new website reflects the true Garland business model. It provides visitors with in-depth information on product solutions and deliver it in a format that allows users to quickly and easily identify what they seek. Aside from that, the site makes if very easy for people to contact the company with questions or comments through product information request forms," reports Garland's General Manager, Scott Craft.
The new site also provides visitors with the most up-to-date information on Garland's product releases and corporate successes through the Garland News ticker located on the homepage. Garland's new website is accessible from mobile devices or tablets, and can be viewed on all platforms.
The Garland Company, Inc. is one of the worldwide leaders of quality, high-performance roofing, and building maintenance systems for the commercial, industrial, and institutional markets. For over 100 years, Garland has continually developed unique product and service offerings that have raised the bar of performance while exceeding the individual needs of customers throughout the world. Today, our network of representatives is ideally positioned throughout the United States, Canada, and the United Kingdom to provide quality roofing solutions for single and multi-property facilities. The Garland Company, Inc., headquartered in Cleveland, Ohio, is an ISO 9001: 2008 certified company.
For more information, visit http://www.garlandco.com or contact Garland at
800-321-9336