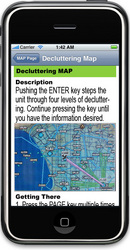 I've been struggling learning to operate the GNS 430W in the airplane I train in. I stumbled upon this app 24 hours ago and decided to give it a try. I can now say that all the confusion I had with the 430 is a thing of the past! Review by Flyer333
Mountain View, CA (PRWEB) April 27, 2010
Despite the wealth of information the increasingly capable Garmin series of GPS units deliver to pilots around the world, they all share one major drawback. The time it takes to learn and understand the sequence of twists, pushes and turns of buttons and knobs to make the units perform. A recent survey said pilots find updating flight plans and locating infrequently used pages a top GPS annoyance. But no more thanks to Max Trescott's specially designed new Garmin 430 Guides for the iPhone and soon for the iPad and Google Android.
Better than a Paper Checklist
Each page in the Max Trescott GPS Guides has detailed explanations and GPS screen shots, as well as suggestions on how best to use the GPS. Plus you'll always have the most current information, since application updates offer new GPS features as they're introduced. Best of all, you can cut down on the bulk in your flight bag by grabbing all of the Guides without adding an ounce! Detailed explanations on accessing weather information are also included for all XM Weather enabled GPSs.
Not surprisingly, GPS guru Max Trescott was selected one of six finalists in a PRWeb-sponsored contest (Take a look here) to see who can generate the most press-release page views about the guides using Twitter and Facebook. Max Trescott thinks visitors deserve a little reward for their efforts though which is why he's offering some lucky winner a free GPS Guide app, or $50 cash when they tell people about these new resources via Twitter or Facebook's new Social Web feature. Just send a Tweet with a link to this press release and include @MaxTrescott in the tweet. Or go to http://www.maxtrescott.com and click the "Like" button in the left column.
Written by a GPS Expert
Max Trescott is the 2008 National Certificated Flight Instructor of the Year. He is the author of the newly released Max Trescott's GPS and WAAS Instrument Flying Handbook and the bestseller Max Trescott's G1000 Glass Cockpit Handbook with WAAS. GPS Guides are available for the panel mount Garmin 430 and 430W, and for portable GPSs including the Garmin 500, 510, 550, and 560 Aera and Garmin 296, 396, 495, 596, 695 and 696 GPSs. Price start at $19.95. Visit the Apple iTunes Application Store and search for "Trescott" or "Garmin" for a complete list of Max Trescott iPhone Guides. Details at http://www.glasscockpitbooks.com.
With nothing to lose and everything to gain - some cash and a copy of this great new iPhone guide - check out Max Trescott's new GPS Guides and tell your friends on Facebook and Twitter.
For more information about Max Trescott and his full line of flight training guides, vist Glass Cockpit Publishing's web site.
###