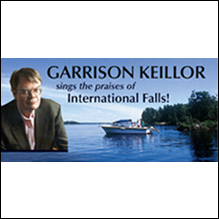 a doctor who's not afraid to use leeches.
Duluth, MN (PRWEB) April 20, 2007
Keillor shared his ditty with a national audience on NPR's Prairie Home Companion Saturday, April 14. The well-known humorist got plenty of chuckles when he crooned, "They don't need a psychiatrist -- they're basically all right; But one who can remove fishhooks and can treat frostbite." Visit DuluthClinic.org to hear Garrison Keillor's physician employment song.
Keillor interviewed International Falls Mayor Shawn Mason by telephone during the live show. "We are looking for some folks who really enjoy a four-season paradise," she explained. "And guys and gals of that profession who like to get off work at five and be on the dock by 5:20 with their feet in the water, a fishing pole and a cold beer." If you are a doctor looking for physician employment opportunities, you can learn more about this perfect doctor job at the Duluth Clinic website.
Community leaders joined forces with the Duluth Clinic in International Falls, Minnesota when two years of traditional recruiting methods weren't working. The mayor penned a letter to Keillor, asking for helping finding "a doctor who's not afraid to use leeches."
Clinic Administrator Sheila Hart says she's already received about 20 e-mails from physicians looking for jobs! The clinic, part of SMDC Health System based in Duluth, Minnesota, is looking to hire four doctors, including a surgeon and some family practice physicians who are willing to deliver babies.
"We knew Garrison had spent time on Rainy Lake here in the past," Hart says. "We just hoped he'd have a soft spot for this area and want to help."
It's a unique twist on a common problem - experts predict a shortage of family practice physicians around the country, especially in rural areas. A recent report by the American Academy of Family Physicians estimates that the number of family doctors must grow by 39 percent in the next 14 years to meet the nation's needs.
Community and clinic leaders just hope that this unusual pitch will help them find doctors looking for jobs that offer a laid-back lifestyle among the lakes and the loons on the Canadian border.
"A life that some people only know from a book," he sang. "In the dead of winter it can feel like outer space, but for the right person it could be the perfect place."
###