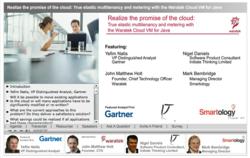 The cloud is multitenant, applications are not. The cloud is elastic, applications on-premise are not.
(PRWEB) September 27, 2012
Gartner Distinguished Analyst Yefim Natis looks at the issues facing organizations in how they can preserve their investment in applications and skills while making use of key cloud characteristics including multitenancy and elasticity. Natis says 'The cloud is multitenant, applications are not. The cloud is elastic, applications on-premise are not.'
Natis explains how cloud characteristics are missing from current applications and what are the most important issues that companies should be looking to resolve and the benefits in moving the multitenancy and elasticity technology up in the stack towards the application server
Also in this new webcast John Matthew Holt, founder and CTO of Waratek, looks at how the Waratek Cloud VM for Java addresses this challenge by imbuing existing Java applications with full cloud capability at run time with no code changes required. Holt looks at how Waratek changed the virtual machine itself and introduced Java Virtual Containers, which work as Java Hypervisors.
Holt says 'The Waratek Cloud Virtual Machine for Java addresses the challenges of running Java applications in the cloud by bringing true genuine multitenancy, genuine elasticity, and utility metering and accounting to Java applications in an automatic, transparent and binary compatible way.'
The Waratek Cloud VM for Java helps industries and businesses move their applications to the cloud by delivering a binary compatible route to cloudify existing applications and reduces vendor lock-in through the development of proprietary enhancements and extensions to unique and proprietary PaaS environments and SaaS environments.
View the webcast now.
A free 30 day evaluation copy of the Waratek Cloud VM for Java can be downloaded now
Waratek will be exhibiting at JavaOne - Booth 5004 and Oracle OpenWorld - Booth 536 from October 1st - 3rd
About Waratek:
A dynamic start-up, Waratek is a team of seasoned IT professionals, drawn from around the world to a Dublin headquarters where extensive and revolutionary research has led to more than 50 international patents, culminating in game-changing Cloud technology. The company has developed the Waratek Cloud VM for Java, a Java Virtual Machine which introduces Java Virtual Containers which work as Java Hypervisors. Similar to virtualization of the OS, Waratek provides the same attributes to virtualization of the JVM.
This game changing technology allows companies to get true Multitenancy, Elasticity and Metering of Java based applications enabling the benefits associated with Cloud delivery to become a reality for Java Applications. There is no need to redevelop your Java based applications for deployment on the Cloud or virtualised infrastructures; simply migrate to the Waratek Cloud VM for Java with no Java code changes.
The Waratek Cloud VM for Java provides greater application density than traditional VMs and can operate on top of the leading Hypervisors deployed in the marketplace today or on bare metal as a Hypervisor in its own right.