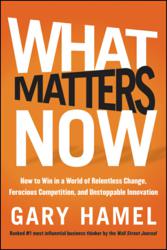 'What Matters Now' is an impassioned plea to reinvent management as we know it—to rethink the fundamental assumptions we have about capitalism, institutions, and life at work.
Hoboken, NJ (PRWEB) February 01, 2012
Leaders today confront a world where the unpredictable and unprecedented are the norm. Whether it is next generation employees shunning blue chips for social start-ups or hundred year-old business models being rendered irrelevant overnight – one sees the exceptional and the extraordinary wherever one looks.
About the only thing a leader can be sure of is that what worked yesterday is unlikely to work today, let alone tomorrow. If ever there was a need for fundamentally new thinking about capitalism, management, leadership, and innovation, and how these things are directly tied to competitive success, it is now. In "What Matters Now: How to Win in a World of Relentless Change, Ferocious Competition, and Unstoppable Innovation" (Jossey-Bass; February 2012; $26.95; 978-1-118-12082-8) leading management expert, and acclaimed author of The Future of Management, Gary Hamel lays out the essential agenda for building organizations that can thrive no matter what.
In a world of fractured certainties and battered trust, some things matter more than others. While the challenges facing organizations are limitless; leadership bandwidth isn't. That's why leaders have to be clear about what really matters now. What are the fundamental, make-or-break issues that will determine whether an organization thrives or dives in the years ahead?
Hamel has the answer: "What matters now, more than ever, is that managers expand their sense of stewardship and embrace timeless values such as truth, prudence and fairness. Unfortunately, these virtues have been notably scarce in recent years--particularly in the citadels of capitalism. What's needed is a values revolution in business – and everyone who has a stake in the future of capitalism will have to do their part."
This book contains 25 hard-hitting, wisdom-filled chapters in five sections. With brutal honesty, cutting-edge examples and iconoclastic thinking, Hamel identifies five issues that are central to success in an age of head-snapping change - values, innovation, adaptability, passion and ideology. Among the critical topics covered …

How to turn ordinary employees into inspired, extraordinary innovators
How to build organizations that are as nimble as change itself
How to reverse the ratchet of control and set the human spirit free at work
How to rebuild the moral foundations of capitalism
How to weave Web 2.0 values into your company's management model
How to defeat bureaucracy and manage without managers
How to invert the pyramid and really put employees first
"What Matters Now" is not a book about doing better. It's not a manual for people who want to tinker at the margins of their organization. Instead, it's an impassioned plea to reinvent management as we know it—to rethink the fundamental assumptions we have about capitalism, institutions, and life at work. This is not a book that fetes today's winners. It's not a celebration of companies that have been doing great so far. Instead, it's a blueprint for creating organizations that are fit for the future and fit for human beings.
For more information, please visit http://www.managementexchange.com/ or follow him on Twitter at @profhamel
About the Author:
Gary Hamel (Silicon Valley, CA) has been called the world's "most influential business thinker" (Wall Street Journal) and "the leading expert on business strategy" (Fortune). His landmark books have appeared on every management bestseller list. He is also author of 17 articles for the Harvard Business Review and articles for the WSJ, Fortune and Financial Times. He is on the faculty of the London Business School and consults with many of the world's most influential companies. He is director of the Management Lab and is leading a pioneering effort to "crowdsource" the future of management.
###