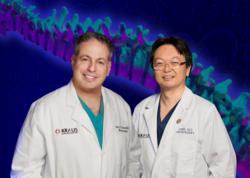 Technologically advanced and modern spine surgery in a compassionate and healing environment
Houston, TX (PRWEB) April 30, 2013
Gary Kraus MD FAANS and Masaki Oishi MD PhD, are doctors specializing in neurosurgery and practicing at the Kraus Back and Neck Institute (KBNI) in Houston, TX, which has been honored by H Texas Magazine for the seventh consecutive year in the Top Doctor Issue. The doctors at the KBNI specialize in the surgical and non-surgical care of patients suffering from low back pain, neck pain, and disorders of the brain.
"We greatly appreciate this honor, as we really strive, on a daily basis, to do the very best for our patients" states Dr. Kraus. "That means staying up on the latest technologies available in neurosurgery, and providing excellent and advanced care in a compassionate and caring setting. We see some of the most challenging conditions possible… patients with severe pain, impairment and tumors…patients worried and without a job due to their condition. I see the neurosurgeon's role as not only providing the modern technical excellence to achieve the best outcome possible, but to also act as a steward to the patient and help guide them through these very difficult times."
Dr. Oishi is one of the few neurosurgeons in the country trained in Robotic Spine Surgery. "This technology has been shown to increase accuracy in spinal surgery, and reduce complications as well as re-operations" he notes. "The spine is a complex three dimensional structure, and using this advanced technology allows us to improve patient safety."
The Kraus Back and Neck Institute has been treating patients with complex disorders of the neck and back since 2004. The neurosurgeons also specialize in brain disorders, using both traditional and minimally invasive techniques. Computer guided navigation of the brain is routinely used on all open brain surgeries. In addition, the Gamma Knife allows certain patients to have a "minimally invasive brain operation" in which they return home the same day. 201 Gamma Rays are targeted at a specific location in the patient's brain, in an effort to cure brain tumors or eradicate facial pain. "The success with this remarkable device is very high in many cases, and the risks are very low, which makes this option extremely attractive for many patients" adds Dr. Kraus, who developed the first Gamma Knife facility in Western Ohio in 1999.
Gary Kraus MD is Director of Neuroscience and Gamma Knife at West Houston Medical Center, and past Chairman of Neurosurgery at Memorial Hermann Memorial City Hospital, Houston, TX. He is Assistant Clinical Professor, Department of Neurosurgery at the University of Texas Medical School at Houston. Dr. Kraus is Board Certified by the American Board of Neurological Surgery, and is a Fellow of the American Association of Neurological Surgeons. He has been listed in "Best Doctors in America," and featured among "Best Neurosurgeons in Texas" and "Neurosurgery Leaders in the United States" in Newsweek; listed in "Who's Who in America."
Publications of Dr. Kraus include the textbook Microsurgical Anatomy of the Brain: A Stereo Atlas (published by Williams and Wilkins) in addition to numerous chapters and peer reviewed papers in the neurosurgical literature, as well as neurosurgical patents pending.
Masaki Oishi Md PhD completed a Spine Surgery Fellowship at the University of Pittsburgh Medical Center Department of Neurosurgery in 2003. Born in New York City, he attended Cornell University Medical College, completing his M.D. degree in 1996. Dr. Oishi received a Ph.D. in Molecular and Cellular Neuroscience from the Rockefeller University in New York. He received his Neurosurgery residency training at the Montefiore Medical Center / Albert Einstein College of Medicine in New York City. Dr. Oishi is Board Certified by the American Board of Neurological Surgery. He has been the recipient of the National Institutes of Health National Research Service Award.
The Kraus Back and Neck Institute has treated patients with back pain and neck pain, and brain disorders, in Houston, TX since 2004. For information, or to have your films reviewed or schedule a consultation, the Kraus Back and Neck Institute can be reached at 281-44 NEURO (446-3876).