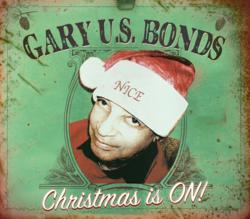 It makes no difference if you've been naughty or nice this year as Santa Gary is coming down your chimney to start your party and he's not leaving until he's had a good cup of cheer and a slow dance with your sister.
New York, NY (PRWEB) December 07, 2012
More than 50 years after he first hit the music scene, Gary U.S. Bonds proves that he can still rock with the best of them. Bonds has just released his very first full-length Christmas CD titled, Christmas is ON!
The disc -- officially released November 27 via G.L.A. Records -- features ten tracks including three originals written by Gary and his daughter, Laurie: "We Wish You A Merry Christmas," "Christmas Is A Phone Call Away" and "Santa Bring My Baby Home To Me."
Christmas is ON! also includes the Irving Berlin classic, "White Christmas" and the holiday season staple, "Santa Claus Is Coming To Town" along with eight other numbers that celebrate the spirit of the holidays.
Christmas is a time to be spent with family and friends and with this new release, Gary U.S. Bonds shares his musical gifts, guaranteed to start any holiday party.
"I love a good time had by all and what better way to spread the good cheer than release a Christmas CD full of music to get your feet moving and your spirits lifted," states Bonds, the legendary master of good time party sounds. "All I can say is that it's been 45 years since I recorded a Christmas song and I thought that it was about time to do it again. I really enjoyed making this album."
Christmas is ON! finds Gary sharing production chores with his daughter, Laurie ("Lil' Mama"), who is also a featured vocalist on the album alongside her mother, Gary's wife, Laurie.
The collection of cuts is a tasty assortment of Christmas old, Christmas new, Christmas borrowed and Christmas blue.
"We Wish You A Merry Christmas" simply brings the house down capturing the essence, energy, spirit and style of Bonds.
"Baby, Baby It's Christmas" is a rare, unplugged anthem to the holidays that highlights Gary soaring above a chorus of strings, treating the elegant lyric like an old friend who's dropped in to remind us all about what's really important this time of year.
Of course, no Bonds effort is complete without an up-tempo party sound or two and the "Christmas Is On" title track easily fills the wish list along with the sly, "Christmas Is A Phone Call Away," which calls to mind The Coasters classic, "Shoppin' For Clothes," done Bo Diddley style.
"It's Christmas In Nu Awlins" is a solid second line stomp in familiar territory for Gary, who then takes us further down south from the Crescent City to parts near Montego Bay and shows that his Caribbean repertoire includes both calypso and reggae beats.
On December 23, Gary will be performing highlights from his Christmas album at The Count Basie Theater in Red Bank, NJ as part of The Hope Concert VI. The Hope Concert is an annual event which this year will benefit The Parker Family Health Center & The Cancer Institute of New Jersey. For the evening, which will be under the musical direction of Bob Bandiera, Gary will be joined by Southside Johnny and many other special guests are promised.
Fans who were unable to see Bonds during his two guesting spots with Bruce Springsteen, during the Wrecking Ball Tour stop at Metlife Stadium will have one more opportunity to hear Bonds this year. This will wrap up another busy year for Gary, who has nine Top 40 hits, five Top 10's and a number one song -- the immensely successful 1961 million-selling single, "Quarter to Three" -- under his belt.
In addition to Gary's new CD, he's in the final stages of completing his forthcoming memoir, "By U.S. Bonds: That's My Story," due out early next year from Wheatley Press.
For further information on Gary, please view his official website at http://www.garyusbonds.com
For interviews, please contact Jeff Albright at The Albright Entertainment Group via e-mail at rockstarpr(at)aol.com.
facebook.com/garyusbonds
twitter.com/gary_us_bonds