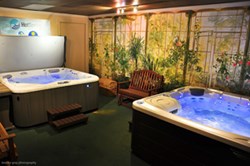 San Mateo, CA (PRWEB) October 01, 2013
Creative Energy, a hot tub, spa tubs, and gas fireplace dealer with three showrooms in the bay area, is offering 15-month 0 percent financing with a purchase of a Hot Spring Spa.
Interested buyers can get quotes and apply for financing with just the click of a mouse on Creative Energy's website at http://www.creativeenergy.com. This deal is only available through October 20th.
Hot Spring Spas are the best-built, easiest to own, longest-lasting hot tubs. That's why over 1 million of them have been sold worldwide. Their world-class engineering means simple but effective water care, reliable components, and sparkling clean water with each use. Hot Spring Spas are also engineered around energy efficiency to help homeowners save on their utility costs.
A hot tub offers many health benefits. According to the Hot Water and Healthy Living book, "research shows that both body and mind benefit from the simple act of immersion in warm water." The heat raises body temperature, which increases circulation, and more blood flow means more nutrients available to help cells and tissues regenerate and speed up the healing process. Also, pressure on joints and muscles is relieved as body weight is reduced by 90 percent in water. The release of endorphins, the body's natural pain killer, is also stimulated by the spa's jet massage.
Creative Energy is the exclusive dealer of Hot Spring Spas in the Bay Area. They have three showrooms to browse models and styles. Creative Energy has been serving the Bay Area for the past 36 years. For more information, call 650-574-7600.
About the company:
Creative Energy Corporation, founded in 1975 by Rolf Engelhard and Denis Kasten, is the Bay Area's exclusive Hot Spring® Portable Spa dealer. A family-owned and operated business, Creative Energy provides award-winning hot tub, spa tubs, wood burning stoves and gas fireplace service to thousands of satisfied customers at their Bay Area locations in San Rafael, San Mateo, and Pleasanton.
Creative Energy's mission is to be the top spa dealer and service provider in the world. They will accomplish this by retailing the highest quality spa in the industry while maintaining the most knowledgeable, dedicated staff. For more information visit their website, http://www.creativeenergy.com/.