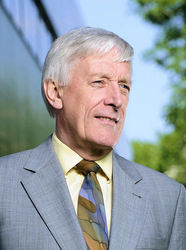 We are delighted to have attracted a Chairman of John's caliber
Orlando, Florida (Vocus) December 22, 2009
Gas Turbine Efficiency plc (AIM: GTE), a leader in energy and aviation products and services, has appointed John Grant as the company's non-Executive Chairman, a position he will assume effective January 4, 2010.
John Grant brings to GTE a strong executive management profile following his work in the engineering and automotive industries in the United States and the UK. Prior to joining GTE, John served as Chairman of Torotrak plc and as non-Executive Director of Pace plc, Melrose plc and MHP SA—all listed on the London Stock Exchange.
John's career started at Ford Motor Company in 1967, progressively climbing the ranks of this Fortune 500 Company to achieve executive management positions in Europe and the US, until his departure in 1992. During his 25-year career at this multinational corporation, John Grant served as Ford's Vice President for Europe, Director of Corporate Strategy at Ford US, and Deputy Chairman of Jaguar.
"We are delighted to have attracted a Chairman of John's caliber," said Steven Zwolinski, Chief Executive Officer at GTE. "John Grant is an international business leader who brings with him a wealth of experience. He will be an exceptional Chairman for GTE as it enters the next stage of its development."
Given his experience directing listed industrial companies, John is set to enhance the corporate profile of GTE, further supported by his involvement with FTSE 30 and FTSE 250 companies. Gas Turbine Efficiency's shares are listed on the Alternative Investment Market (AIM) of the London Stock Exchange under the symbol "GTE".
"I am delighted to be joining GTE at this exciting stage of its development," said John Grant as incoming Chairman for GTE. "The company has already made significant progress in developing an attractive portfolio of performance-enhancing products and establishing a strong position in its chosen gas turbine markets. It clearly has the potential to continue to grow rapidly in the coming years."
John was educated at Queen's University of Belfast, where he studied Economics and subsequently completed his MBA at Cranfield University.
About GTE
Gas Turbine Efficiency plc designs, manufactures and supplies proprietary cleantech energy saving and performance enhancing solutions to the power generation, oil and gas, and aviation industries. The company's extensive portfolio of patented cleantech solutions save fuel, reduce emissions, increase availability, and extend turbine and parts life. The Group also provides solutions for burning a wider variety and quality of fuels such as liquefied natural gas, clean coal, and alternative fuel blends. Products and services developed by our world-class technology team include compressor cleaning and power augmentation systems; fuels management systems; combustion design, repair, upgrade and monitoring; and fluid and control auxiliaries.
For more information about Gas Turbine Efficiency plc and its products and services, please visit http://www.gtefficiency.com.
For more information:
Megan Thomas
Director of Communications
Gas Turbine Efficiency
Phone: 407.304.5236
###