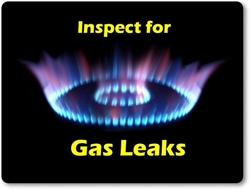 When it comes to natural gas, no leak is tolerable because of the danger of explosion and fire. It doesn't take long to find out if there is a leak somewhere in the system.
Southlake, TX (PRWEB) June 28, 2010
Plumbers at Berkey's Plumbing, Heating and Air Conditioning report they are discovering a growing number of homes in North Texas with gas leaks, and they caution homeowners to get their home gas lines checked by a licensed expert.
"This is no cause for panic, but a call for caution," Berkey's president – and licensed master plumber – Bill Stevens said. "When it comes to natural gas, no leak is tolerable because of the danger of explosion and fire. It doesn't take long to find out if there is a leak somewhere in the system."
Stevens said his company's plumbers have been discovering gas leaks more frequently while installing new tankless water heaters for clients. Before tapping into a home's gas lines the plumbers perform a pressure test with a calibrated gauge. Any drop in pressure is evidence of a gas leak.
"People tend to think of natural gas lines as stationary, with no moving parts, but that's not entirely true," Stevens said. "There are a number of places in a household gas delivery system where things move, intentionally or not."
Stevens said once a leak is detected, it must be located and repaired. Plumbers are trained and licensed to work on gas lines. He said a gas leak will show up in predictable places, such as these:

Shut off valves – every home gas system has several, for water heaters, furnaces, clothes dryers, ranges, ovens and fireplaces. Stevens says rubber washers in valves can get brittle and shrink, allowing gas to seep out.
Flex lines – many central heating systems were installed in the past using flexible tubing, something not permitted in most places now. Flex lines tend to be thinner; they can rub up against metal edges and wear through when recurring vibrations cause a rubbing motion.
Unsecured gas lines – In most North Texas homes gas lines run through attics. People going in and out of attics for storage or repairs can trip on gas lines, which can loosen fittings if the lines aren't secured well.
Underground gas lines – homes that have swimming pool heaters or outdoor built-in gas grills usually have buried gas lines. It used to be legal to run iron pipe below ground, which can rust out. Now, non-corroding materials must be used.
While tankless water heater installation has played a big part in revealing unsafe conditions in many homes, Stevens points out that the water heaters have nothing to do with the leaks.
"The leaks have been there all along; we just find them during the installation process, and our clients are glad we do," Stevens said. For that reason he says homeowners should have gas leak inspections regardless of whether they are considering installing any new gas appliances, especially if their homes are more than 10 years old.
"There's no set age involved, but it's just a good idea to pay attention to wear and tear on gas systems as homes age," Stevens said. "Because of the developing trend for gas leaks in North Texas homes we now are making this part of the annual preventive plumbing inspections we conduct as a regular benefit of our Universal Protection Plan service agreement."
About Berkey's
Berkey's Plumbing, Heating and Air Conditioning has specialized in the needs of homeowners in Southlake, Grapevine, Colleyville and Flower Mound for 35 years. Berkey's reputation for prompt, honest service from licensed and factory trained technicians assures customers the best in professional service, combined with leading brands including American Standard, Rinnai, Toto, InSinkErator and more. Call Berkey's at 1-877-BERKEYS, or visit our Website at http://www.berkeys.com.
Contact:
Lee Pogue
Berkey's Plumbing, Heating and Air Conditioning
817-481-5869
###