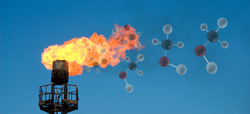 gas processes, integrating these with R3 Sciences unique patent-pending and proprietary catalyst technologies
Lafayette, LA (Vocus) February 27, 2010
R3 Sciences announced today that they are building a commercial scale, skid mounted gas process system capable of producing up to 500,000 gallons per year of methanol. The R3 Sciences methanol production system is the first of its kind to employ several key advancements in micro-plant and gas-to-liquid technology. This gas-to-methanol micro plant represents the culmination of several years' work by both internal as well as external research team at R3 Sciences.
A world bank review states that "over 5.3 trillion cubic feet of natural gas are wasted annually" which equals about 25% of the United States total gas consumption. This gas flaring releases over 400 million tons of greenhouse gases as carbon dioxide annually.
Methanol is considered an essential chemical intermediate for many consumer products and fuel components. It is a building block for biodiesel and fuel cells are now using methanol as a hydrogen source worldwide to generate electricity. Here in the U.S. methanol production moved offshore years ago, taking advantage of cheap natural gas feedstock in other parts of the world. Methanol can serve as a valuable energy storage resource, allowing stranded natural gas to be converted into a more easily transportable liquid. Today, very little methanol is produced in North America, with most methanol produced in other regions around the world where large volumes of natural gas are stranded. In North America and in other regions, considerable volumes of smaller gas sources are simply flared releasing carbon dioxide into the atmosphere. The R3 Sciences gas to methanol micro plant process offers an alternative to simply wasting natural gas by burning it in a flare.
Until now, the predominant method for producing methanol has involved feeding large natural gas volumes into refinery scale, Fischer-Tropsch systems to produce methanol. These systems typically operate at high pressures and high temperatures. The R3 Sciences gas-to-methanol micro-plant will operate at much lower pressures and temperatures, which lower the cost and complexity of operations.
R3 Sciences' proprietary micro-plant gas-to-liquids technology doesn't require either field gas compressors or pipeline access, which appeals to more and more operators as gas production resources grow beyond local pipeline capacity. The micro-plant concept allows producers to create a market for their stranded and small natural gas volumes. The system combines three major process components including syngas production, gas conditioning and catalytic reaction to produce methanol. The process uses air as its source of oxygen in the production of syngas (a gas comprised of carbon monoxide, hydrogen and nitrogen), greatly lowering the cost and complexity of the system.
R3 Sciences is eager to demonstrate the gas-to-methanol micro-plant technology as a viable alternative for natural gas producers. "The R3 Sciences process effectively leverages several "off-the-shelf" gas processes, integrating these with R3 Sciences unique patent-pending and proprietary catalyst technologies," said David Trahan, President and CTO of R3 Sciences. Engineers at R3 Sciences have designed a process based upon traditional gas processing equipment standards, offering innovative technology but with certain familiarity to oil & gas operators.
The R3 Sciences micro-plant is being built at a construction site in South Louisiana and is expected to be commissioned by June 2010 using natural gas feedstock. R3 Sciences and its initial channel partners are eagerly awaiting the commissioning of the gas-to-methanol micro plant, with additional field units planned for natural gas producing regions in the U.S., Canada, and Australia. Researchers at R3 Sciences are also looking into other sources of methane such as biogas and biomass syngas as a feedstock potential for gas to methanol process.
For more on R3 Sciences, contact their office at 337.291.2778, or visit their website at http://www.r3sciences.com.
###