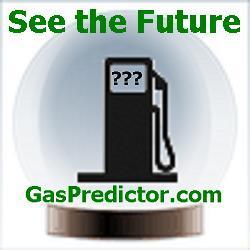 It really feels good to pass the gas station with a full tank, seeing that the price is much higher than it was when you filled up
Nashua, NH (PRWEB) April 3, 2009
GasPredictor.com, a Web site that predicts changes in retail gas prices one day in advance, is celebrating its perfect record. Since the first published prediction on November 7, 2008, through yesterday's forecast on April 2, 2009, GasPredictor.com has published forecasts on 100 consecutive business days, and has been correct every time.
In addition to its nationwide gas price predictions, which forecast only the direction of price changes, GasPredictor.com also publishes five local editions of its predictions, which predict specific price ranges each day. These predictions have also been 100% correct, with the exception of one day in Atlanta. Their success rate for Atlanta is currently 97%, which is still remarkable.
As the GasPredictor.com team considered the approaching 100th prediction milestone, they took a look at the big picture result of their predictions, instead of focusing on the next day's predictions and the previous day's results. They wondered what would happen to a hypothetical subscriber who followed their advice exactly each business day. The result surprised even the team themselves.
Of course, all the analysts in the team had been using their own predictions since the spring of 2008, long before they even thought of publishing their daily analysis. They knew they were saving money by buying gas before the price increases and avoiding buying gas right before a price decrease. But each member of the team had their own situation of daily miles driven, fuel economy of their cars, and other variables, so there was no consistent measure of how much money they were saving.
To get a better idea of the money-saving power of their predictions, the team created a hypothetical subscriber with a simple profile of gas usage. This hypothetical person used exactly two gallons of gas each business day and had a car that holds exactly 14 gallons of gas. Then, they ran test cases, assuming the person started with a full tank of gas on the morning of November 7, 2008. In the baseline case, the person simply filled his tank whenever it got down to two gallons. In the GasPredictor test case, the person filled his tank whenever the newsletter recommended buying gas, and bought four gallons of gas any time his tank was empty but GasPredictor.com recommended against buying gas. Running out those scenarios for the past 100 business days yielded a result that didn't surprise the team at all. The hypothetical subscriber would have saved a little over four dollars by following GasPredictor.com's recommendations. Extrapolated out to a full year, that was a savings of nearly $11 per year, just about half again the cost of a daily subscription to the Gas Predictor Newsletter, and nearly three times the cost of a weekly subscription.
The real surprise came when the team applied those same hypothetical cases to the five local editions. In each of these cases, they began the scenario on the beginning publication date of each local edition: January 12 in Nashua, NH; February 17 in Atlanta and in Raleigh; and March 9 in Chicago and Houston.
The annualized savings were exactly the same, within fifty cents, in all cases except Chicago.
Chuck Bonner, lead analyst for GasPredictor.com, explains the peculiar situation in the Chicago predictions: "Unfortunately for Chicago, in the twenty business days since we began publishing there, prices have never decreased. Therefore, we have recommended buying gas every single day, so there is no opportunity to save. Our hypothetical subscriber would save some money if he could skip buying gas just one day and buy four gallons of cheaper gas after prices go down. But ever since March 9, prices in Chicago have never gone down, even one single day. It's still good for subscribers in Chicagoland to know that prices are going up tomorrow, but we can't point to savings unless prices go down on at least one of those tomorrows."
All things considered, the GasPredictor.com team is pleased with their results. "We established the price of a subscription on the assumption of saving the subscriber about twelve dollars a year," Bonner says, "So we're right on target, within a reasonable margin of error."
Bonner also acknowledges that saving twelve dollars a year on gas is nothing to get terribly excited about. "You could save much more than that by telecommuting one day per month, or even by fixing a slow leak in one of your tires," Bonner admits, "but if you combine these meager savings with more impactful gas saving techniques, you're saving that much more of your gas budget." Perhaps the real value of GasPredictor.com is the sense of beating the system with foreknowledge. "It really feels good to pass the gas station with a full tank, seeing that the price is much higher than it was when you filled up," Bonner says.
GasPredictor.com is posting a full detailed report on their hypothetical subscriber's saving on their Web site as part of their 100th prediction celebrations.
About GasPredictor.com: GasPredictor.com publishes predictions of retail gas prices one day in advance via e-mail to subscribers, and several hours in advance on its Web site. Visit http://www.gaspredictor.com for gas-saving tips and delayed daily forecasts of this afternoon's pump prices, or http://www.gaspredictor.com/SubscribeMain.htm to get the forecast of tomorrow's gas price before you go home from work. And don't miss the 100th prediction celebration report at http://www.gaspredictor.com/100thPrediction.htm
###