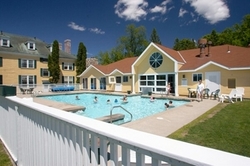 Maine's Most Beautiful Mountain Village
Bethel, ME (PRWEB) June 16, 2008
To alleviate the rising costs at the pump for summer vacationers, The Bethel Inn Resort in Maine is guaranteeing a gasoline price of $2.99 per gallon round trip to the resort from any departure point within 300 miles of the resort. At check-in, the staff will calculate the round trip mileage and miles per gallon of the guest's vehicle. The difference between the current gasoline price at the guest's last fill-up and the $2.99 guarantee will be credited towards the guest's vacation.
A minimum two-night stay is required. The gas guarantee is available for resort vacations from Father's Day, June 15 through Labor Day, September 1, 2008. Reservations for the guarantee must be made during the three week period, June 13-July 4, 2008.
The Bethel Inn Resort located in "Maine's Most Beautiful Mountain Village" at the base of the White Mountains astride the Androscoggin River, offers summer vacations for families, couples and groups that are some of the most affordable in Northern New England. Comparisons of vacation rates at similar resorts in coastal and mountain locations show a savings of anywhere from 32-37% on room rates, meals and activities.
A quick three-day, two night getaway for a couple includes two nights lodging, two full country breakfasts, two four course dinners, unlimited golf, use of all the resort amenities including the health club, outdoor pool and lake house with canoes and kayaks, resort fees and taxes from $170 per person per night.
Vacationers can save on the many no-fee recreational activities in the area like hiking in the White Mountains, nature walks to visit waterfalls or to take a dip in a mountain stream, rock hounding and gem mining at abandoned quarries (a favorite with kids), visiting the Bethel Historical Society and its guided walking tour of the historic district, and sampling a free piece of fudge at the Maine Line Products Store. The community hosts special events nearly every weekend and there are free music concerts on the common.
Information on The Bethel Inn Resort and Bethel Village can be found on line at http://www.bethelinn.com or by phoning 800-654-0125.
###