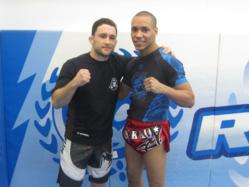 "It's great to meet aspiring fighters and Jay is really talented. Gaspari Nutrition always goes the extra mile in treating its fans and customers in a way I've never seen any sponsor do. I'm proud to be part of such a great company" said Edgar
(PRWEB) December 11, 2012
Gaspari Nutrition®, a globally distributed sport nutrition company, awarded Jay Matias of Astoria, New York 'First Prize' in the mixed martial arts portion of the 2012 Train with Team Gaspari contest. Jay is no ordinary mixed martial arts fan. He's only 22 but trains out of Aziz Nabih's Sitan Gym located in Queens, NY as an accomplished professional Muay Thai fighter. Ironically, while professionally sanctioned mixed martials arts is banned in the state of New York, Jay has actually competed in Madison Square Garden as a professional Muay Thai fighter, scoring a quick and decisive knockout victory in the first round. Currently, Jay is training for his next fight which will take place in Thailand on 12/30/12. Team Gaspari wishes him the best.
Frankie Edgar is also in training camp right now preparing for a Superbowl Weekend match with reigning UFC Featherweight Champion Jose Aldo. He is on a strict training and diet regimen and is an avid user of Gaspari Nutrition products. Edgar and Matias' training sessions were fueled by the all new Aminolast –Recovery and Endurance BCAA Superfuel, as well as Glycofuse – Rapid Performance & Recovery Supercarb. The two new category defining products have been heralded by athletes around the world as some of the best money can buy. If you know anything about Frankie Edgar, he's become a Gaspari loyalist because the products really work.
The day was full of excitement and was truly a hands-on "real deal" training day in NYC at the world famous Renzo Gracie Academy.

9:30am -11:00am Muay Thai Sparring Session
11:30am Lunch with Team Gaspari
1:30 to 2:30pm Brazilian Jiu-Jitsu Training
5pm Dinner and Q&A session with Team Gaspari about performance nutrition.
Jay is one of three winners in the overall 2012 Train with Team Gaspari contest who will be vying for the grand prize of $25,000. Official contest rules and details can be found here: http://www.gasparinutrition.com/news/viewnews.aspx?id=260)
About Gaspari Nutrition®
Gaspari Nutrition is headquartered in Lakewood, NJ and is a rapidly expanding, healthy lifestyle sports company that develops and distributes a full line of nutritional supplements. Gaspari's propriety and award winning products address all categories of an active lifestyle including muscle building, weight loss, and general fitness through a daily nutritional supplement regimen. They are one of the few companies to sponsor independent, 3rd party research on their products to prove their efficacy. Gaspari Nutrition is sold in over 85 countries and available in over 5,000 US retail outlets that include GNC, Vitamin Shoppe, Kroger, Dick's Sporting Goods as well as over 100 online stores, including Bodybuilding.com, Amazon and DrugStore.com. For more information, please visit http://www.GaspariNutrition.com.