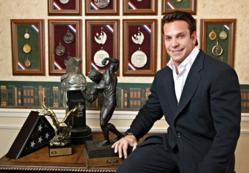 "I've always admired Arnold Schwarzenegger for his contributions to fitness in America, so being presented this award by him is a dream come true" said CEO Rich Gaspari
(PRWEB) February 06, 2013
Gaspari Nutrition®, a globally distributed sport nutrition company, is proud to announce that CEO and IFBB Hall of Famer Rich Gaspari will be honored with the 2013 Arnold Classic Lifetime Achievement award. The Arnold Classic Lifetime Achievement Award was established in 2000 to honor the industry's legends for their contributions to the world of health and fitness. Previous winners include: Joe Weider (2000), Reg Park (2001), Jim Lorimer (2002), Frank Zane (2003), Bill Pearl (2004), Jack LaLanne (2005), Lee Haney (2006), Cory Everson (2007), Ben Weider (2008), Franco Columbu (2009), Sylvester Stallone (2010), Lou Ferrigno (2011) and Robert Kennedy (2012). Gaspari joins an elite class of men and women who have helped establish a fitness lifestyle into the daily routines for millions of fitness enthusiasts.
"I am truly humbled with this announcement and never would have imagined 25 years ago that I'd be honored with such an award. I've always admired Arnold Schwarzenegger for his contributions to fitness in America, so being presented with this award by him is a dream come true" said CEO Rich Gaspari.
Rich Gaspari has received numerous accolades for his bodybuilding achievements including Mr. Universe, Mr. America, as well as placing 2nd three times in the Mr. Olympia. Off the stage Gaspari was awarded the Ben Weider Lifetime Achievement award in 2009 for his contributions to the fitness industry.
Gaspari has always been a staunch supporter of numerous IFBB and NPC fitness and physique events. He's also supported numerous athletes over the years including amateur and professional fitness competitors, bodybuilders, endurance athletes, mixed martial artists, and traditional martial artists. Much of this support was under the umbrella of his world famous Gaspari Nutrition sports nutrition brand which has seen rapid growth over the past decade. With hard work and unwavering dedication, Gaspari has made a successful transition from competitive bodybuilder to world famous CEO.
About Gaspari Nutrition®
Gaspari Nutrition is headquartered in Lakewood, NJ and is a rapidly expanding, healthy lifestyle sports company that develops and distributes a full line of nutritional supplements. Gaspari's propriety and award winning products address all categories of an active lifestyle including muscle building, weight loss, and general fitness through a daily nutritional supplement regimen. They are one of the few companies to sponsor independent, 3rd party research on their products to prove their efficacy. Gaspari Nutrition is sold in over 85 countries, including over 85 Popeye's locations in Canada, and available in over 5,000 US retail outlets that include GNC, Vitamin Shoppe, and Kroger, as well as over 100 online stores, including Bodybuilding.com, Amazon, DrugStore.com, and SupplementsCanada.com. For more information, please visit http://www.GaspariNutrition.com.