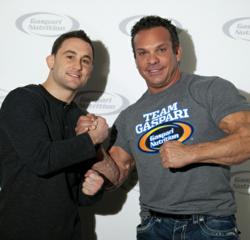 "The first time I saw Frankie fight was against Gray Maynard and the kid showed more heart than any athlete I had ever seen before in any competition. I knew from that point he'd make an excellent addition to Team Gaspari," said CEO Rich Gaspari
Lakewood, NJ (PRWEB) January 13, 2012
Gaspari Nutrition®, a globally distributed sport nutrition company, is proud to announce they have signed American mixed martial arts fighter and UFC Lightweight Champion Frankie "The Answer" Edgar to Team Gaspari. The brand has embraced the fervor of mixed martial arts as it diversifies its global brand strategy to encompass some of the best functional strength and conditioned athletes on the planet.
"The first time I saw Frankie fight was against Gray Maynard and the kid showed more heart than any athlete I had ever seen before in any competition. I knew from that point he'd make an excellent addition to Team Gaspari," said CEO Rich Gaspari.
Frankie is a graduate of Clarion University and wrestled for the Golden Eagles from 2001-2005. During his career as a Golden Eagle, Edgar was a two-time PSAC Champion (2004, 2005), an EWL Champion in 2005 at 141-pounds, and was a 4-time NCAA Div. I National qualifier. Currently, he is the UFC lightweight champion having successfully defended his title three times with one split decision. Being true to his wrestling roots, Frankie is currently an assistant wrestling coach at Rutgers University.
In the Octagon, Frankie's accolades include winning Fight of the Night three times and Knockout of the Night once. Edgar was also the recipient of the 2011 World MMA Awards Fight of the Year for his showing at UFC 125 against Gray Maynard, which has been regarded as one of the greatest fights ever.
Look for Frankie to appear on both Gaspari TV and Gaspari's global advertising campaign representing a new breed of Team Gaspari athletes alongside fellow MMA rising star "All American" Brian Stann and a few more unnamed MMA rising stars. He will be actively blogging at Frankie.gasparinutrition.com and making appearances with Team Gaspari around the country. Gaspari Nutrition is known for hard-hitting and clinically validated products. Frankie will be a perfect fit, living only 10 minutes away from Gaspari Nutrition's global headquarters.
About Gaspari Nutrition®
Gaspari Nutrition is headquartered in Lakewood, NJ, and a rapidly expanding healthy life-style sports company that develops and distributes a full line of nutritional supplements. Gaspari's propriety and award winning products address all categories of an active lifestyle including muscle building, weight loss, and maintaining general fitness through a daily nutritional supplement regimen. They are one of the few companies to sponsor independent 3rd party research on their products to prove their efficacy. Gaspari Nutrition is sold in over 85 countries and available in over 5,000 US retail outlets that include GNC, Vitamin Shoppe, Kroger, Dick's Sporting Goods as well as over 100 online stores, including Bodyybuilding.com, Amazon and DrugStore.com. For more information, please visit http://www.GaspariNutrition.com.
###