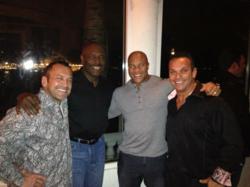 It's surreal being on stage with guys I used to compete with like Lee Haney and even the younger generation like Ronnie Coleman who have successful supplement companies now. We're still competing, but now it's to make the best products our fans can buy
(PRWEB) December 13, 2012
Gaspari Nutrition®, a globally distributed sport nutrition company, was represented by owner and CEO Rich Gaspari at the Masters Olympia Seminar this past weekend in Miami Beach, Florida. Bodybuilding's past, present, and future came together to provide a rare and unique opportunity for fans to learn from some of the best in the industry in a Q&A style format. Rich was joined by the likes of former Olympians Ronnie Coleman, Lee Haney, and reigning Mr. Olympia Phil Heath for this event.
During the seminar, Rich spoke about his hall of fame bodybuilding career as well as the success of his sports nutrition company Gaspari Nutrition. He touched on the transition from athlete to business owner and the synergy between the two. He has always focused on the importance of 'building your personal brand' and establishing self-confidence and work ethic to lead a successful life. Team Gaspari athlete Flex Lewis, Gaspari Nutrition's first ever sponsored athlete, is a prime example of someone Rich has taken under his wing and bred for success. Both have said on numerous occasions that they consider themselves to be like brothers, as opposed to the usual business-like relationship between athlete and sponsor.
About Gaspari Nutrition®
Gaspari Nutrition is headquartered in Lakewood, NJ and is a rapidly expanding, healthy lifestyle sports company that develops and distributes a full line of nutritional supplements. Gaspari's propriety and award winning products address all categories of an active lifestyle including muscle building, weight loss, and general fitness through a daily nutritional supplement regimen. They are one of the few companies to sponsor independent, 3rd party research on their products to prove their efficacy. Gaspari Nutrition is sold in over 95 countries and available in over 5,000 US retail outlets that include GNC, Vitamin Shoppe, Kroger, Dick's Sporting Goods as well as over 100 online stores, including Bodybuilding.com, Amazon and DrugStore.com. For more information, please visit http://www.GaspariNutrition.com.