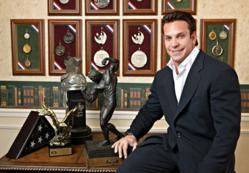 "It gives me great satisfaction to sponsor the 2013 Arnold Amateur International. The world-class event gives the opportunity to top amateur athletes to compete against the best physiques in the world." said Joe Volgey, VP of Marketing for Gaspari
(PRWEB) February 26, 2013
Gaspari Nutrition®, a globally distributed sport nutrition company, is proud to announce that it will be the presenting sponsor for the 2013 Arnold Amateur competition on the 25th anniversary of the Arnold Classic. Last year over 500 competitors participated representing over 50 countries. Attendees of the show shouldn't let the word 'amateur' sway their opinion, the level of competitors is world class. As a matter of fact, the overall winner of the men's competition receives an invite to the following year's Arnold Pro contest.
"It gives me great satisfaction to sponsor the 2013 Arnold Amateur International. The world-class event gives the opportunity to top amateur athletes to compete against the best physiques in the world." said Joe Volgey, VP of Marketing for Gaspari Nutrition
In addition to having stage banners and the like, Gaspari Nutrition will initiate an email blast about the competition and feature it on the GaspariNutrition.com homepage. Show sponsorship at all levels is common for Gaspari, from local competitions to IFBB level events. CEO Rich Gaspari never loses sight of his career as a bodybuilder and the way it helped him launch a successful supplement company. Ironically, Rich will be receiving the 2013 Arnold Classic Lifetime Achievement Award on the very same weekend, a prestigious honor in the bodybuilding community.
Gaspari Nutrition will have its usual setup at the Arnold Expo, showcasing one of the most popular booths in Columbus, Ohio. Throughout the weekend, fans will have the opportunity to meet their favorite Team Gaspari athletes like Flex Lewis and Frankie Edgar. In addition, Gaspari will be sampling its two newest products, SuperDrive – Pre Training Energy Superfuel and Isofusion – Premium Whey Isolate.
About Gaspari Nutrition®
Gaspari Nutrition is headquartered in Lakewood, NJ and is a rapidly expanding, healthy lifestyle sports company that develops and distributes a full line of nutritional supplements. Gaspari's propriety and award winning products address all categories of an active lifestyle including muscle building, weight loss, and general fitness through a daily nutritional supplement regimen. They are one of the few companies to sponsor independent, 3rd party research on their products to prove their efficacy. Gaspari Nutrition is sold in over 85 countries, including over 85 Popeye's locations in Canada, and available in over 5,000 US retail outlets that include GNC, Vitamin Shoppe, and Kroger, as well as over 100 online stores, including Bodybuilding.com, Amazon, DrugStore.com, and SupplementsCanada.com. For more information, please visit http://www.GaspariNutrition.com.