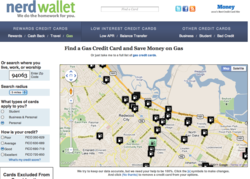 The tool will better allow consumers to truly find the cheapest gas in their neighborhood.
New York, N.Y. (PRWEB) June 22, 2011
There is good news for motorists looking to hit the roads this summer – NerdWallet, the premier credit card search site has launched a new tool that allows users to find the cheapest gas in their neighborhood. The tool, factors in details such as credit card surcharges at certain gas stations, and whether you can benefit from using gas rewards credit cards at certain stations to get up to 5% cash back.
The gas price comparison tool enables drivers to intelligently comparison shop for gasoline. By entering a zip code, users can find an "optimal" gas station and credit card combo, to get the cheapest gas is in their area. What makes this tool stand out from other gas search sites is the fact that it is the only gas tool that tracks how each gas station handles the use of credit cards.
Tim Chen, CEO and Founder of NerdWallet, and a credit card rewards "guru" says the tool will better allow consumers to truly find the cheapest gas in their neighborhood, by creating an "Apples to Apples" comparison of gas prices, factoring in the following variables:

Is the gas station cash-only?
If not, does the gas station accept American Express, or does it only accept Visa and MasterCard?
Does the gas station have a surcharge for using credit cards?
For example, ARCO may be cheaper than Shell in a certain neighborhood, but ARCO only accepts cash. Therefore, you may actually get a lower price at Shell: using a Pentagon Federal Platinum Cashback card with 5% back could actually end up being cheaper than paying cash at ARCO.
"Some gas stations don't accept certain credit cards, or may add a surcharge of 6 to 12 cents for gasoline purchased using a credit card," says Chen. "Gas credit cards, in particular, can save you money if you pair up the right card with the right station. However, the best credit card choice and best gas station choice really depends on the set of gas stations in your neighborhood, and your credit score."
Here are a few things consumers must consider when determining how to pay at the pump, which NerdWallet addresses:
Costco and Sam's Club – Warehouses may have some of the cheapest gasoline around, but are excluded from the "Bonus" gasoline reward rates attached to many credit cards.
Gas Rebate Limits – There are often restrictions about how many dollars per month qualify for certain gas credit card bonuses.
Is it cheaper to go to a cash only station – Many discount stations only accept Cash, or charge more for credit card purchases. Sometimes it is cheaper to pay with cash than to earn gas rewards at a more expensive gas station.
While gas credit card rules can be confusing, understanding them can save you hundreds of dollars a year on gasoline. So if you're a motorist with wanderlust this summer, check out the NerdWallet gas price comparison tool before you start the engine.
NerdWallet, one of the nation's premier credit card search sites, helps its users save money and skip the headache of finding credit cards and credit unions online. NerdWallet was rated Money Magazine's best credit card site in 2010 and has been featured in AP, the New York Times, Forbes, SmartMoney and by consumer advocate Clark Howard. It currently tracks more than 1,700 credit cards, offering personalized advice for students, rewards card seekers, jetsetters and more.
###