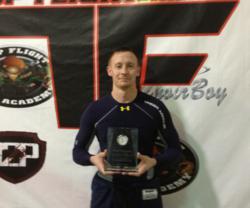 Belcamp, Maryland (PRWEB) January 30, 2013
It took Gaston but a mere 19 seconds to sink in a Brazilian Jiu-Jitsu choke ,aka "The Anaconda Choke". Widely use in elite level no gi grappling matches, Its probably best known as the weapon of choice by former UFC and Pride Champion, Antonio Rodrigo "Minotauro" Nogueira
The whole set up, including the choke Gaston used, is something Top Flight MMA instructors drill with the students religiously. It's all a part of the world renowned Team Lloyd Irvin Brazilian Jiu-Jitsu system ( Top Flight MMA Academy is the Harford, Cecil and, Baltimore County Lloyd Irvin Mixed Martial Arts headquarters) that the students are immersed in and where they are supported with positive teammates and coaches, and from where they learn slick competition strategies to get submission victories like Gaston's.
When asked about is submission award Gaston had this to say, "After I watched the tape I realized I could have finished It sooner" .
Gaston is a dedicated student, with a full time job, wife, new born baby, and still finds time to train twice a day; once at 11am class and again in the 6 pm class. We look forward to seeing Gaston in the next BJJ tournament.