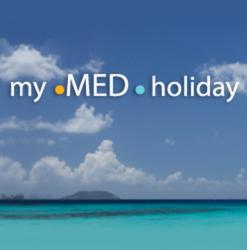 myMEDholiday.com joined Google Plus for Social Media Interaction.
(PRWEB) February 20, 2013
The company offers prospective medical travelers detailed profiles of more than 400 healthcare providers in Singapore, India, and Thailand, where medical tourism attracts over 1 million foreign visitors per year. The site is an abundant resource for anyone looking for assistance with a trip overseas for medical treatment, and having a social-networking presence like Google+ adds another layer of coverage for their clients.
A web-marketing manager at the company says, "In the era of social media, myMEDholiday.com owes it to its customers to be current and easily available to them. Now, Google+ users who are interested in medical tourism can add us to their Circle in order to stay up-to-date on the latest industry news and trends."
In Google+ parlance, "Circles" are like friends' lists, and they allow users to share information with one another. In the case of a site like myMEDholiday.com, people in its Circle can receive real-time updates on medical travel, including news about healthcare facilities abroad and on the array of information provided by the site pertaining to various medical services, anything from stem-cell therapy to gastric bypass surgery, and fertility treatment to cosmetic plastic surgery.
myMEDholiday.com also provides listings of internationally accredited hospitals, a directory of medical travel companies who specialize in arranging medical tourists' trips, and a robust search engine. With this most recent addition to its web presence, myMEDholiday.com clients have access to a wealth of medical tourism information either directly, via an RSS feed, through the company's newsletter, or now with Google+.
Interact with myMEDholiday.com on their Google+ page here.
About The Company:
myMEDholiday.com is a comprehensive Medical Tourism portal and ratings site with offices in San Francisco, CA and Bangkok, Thailand. They provide direct access to detailed information about top medical and healthcare facilities around the world, giving patients the tools to locate, compare and contact medical travel or medical tourism providers quickly and conveniently. Their management team has over 15 years of experience with online travel and internet marketing, and has implemented a wide range of successful websites and e-marketing campaigns, and their aim is to work on behalf of patients and give them the information needed to make the right choices, while helping them find a safe, effective and cost-saving alternative for their health and medical needs.
To learn more visit - http://www.mymedholiday.com/