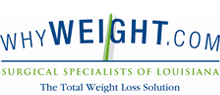 Whether the weight regain is 10 lbs or 80 lbs, patients should not wait to ask for help. We have many programs available.
Covington, Louisiana (Vocus/PRWEB) February 28, 2011
The Surgical Specialists of Louisiana (SSL) at WhyWeight.com, The Total Weight Loss Solution, now offer a wide range of non-surgical, scar-free and traditional surgical options for bariatric surgery patients who have experienced weight regain. SSL's team of weight-loss specialists can provide a tailored solution for every patient, from healthy lifestyle programs to the ROSE incisionless procedure or a revisional surgery.
Although Roux-n-Y gastric bypass has been considered a bariatric "gold standard" for over 40 years and most weight-loss surgery patients enjoy successful long-term results, some people may experience inadequate weight loss or gain some of the weight back after a period of time. The Surgical Specialists of Louisiana have developed a successful team approach for bariatric surgery weight regain. In addition to traditional revisional surgery, this comprehensive program includes non-surgical weight management solutions, such as the 30-day signature "back-on-track" diet and exercise plan, and noninvasive options.
Gastric bypass patients who struggle with weight regain may be candidates for the new ROSE procedure (Restorative Obesity Surgery, Endoluminal). This incisionless procedure is performed through the mouth, without making any external incisions into the body, to restore the stomach opening and pouch to the original post-surgery proportions, thus limiting food intake.
Jan Brenan, a Roux-n-Y patient who maintained her weight for 5 years after surgery, regained 25 pounds after Hurricane Katrina hit New Orleans. Recently she had the ROSE procedure with Dr. Tom Lavin at the Surgical Specialists of Louisiana. "I needed a second chance," Jan said. "The ROSE procedure helped me learn from my past mistakes and become fully committed to a healthy weight and a healthy life." Watch Jan's ROSE procedure testimonial on the SSL website.
Deana McDonald, RN, CBN, and Director of Clinical Operations at SSL, works with weight-loss patients before and after their procedures, including post-op weight regain evaluations and individualized program recommendations and follow-up for each person.
"Weight regain after bariatric surgery is not uncommon. We understand and are here to get patients back on their journey to healthy living and eating. Our comprehensive program includes non-surgical options such as 'back-on-track' plans, specific low-calorie diet plans, prescriptives, and the noninvasive ROSE approach," Deana said. "Surgical options, such as a revision or conversion, may be an option and can be discussed with one of our providers. Whether patients gained back 10 lbs or 80 lbs, they should not hesitate to call us and we will find the best solution for them."
Revisional surgery and the ROSE incisionless procedure are covered by some health insurance policies in Louisiana, and financing options are available for SSL's non-surgical plans. 
About The Surgical Specialists of Louisiana
The Surgical Specialists of Louisiana (SSL) at WhyWeight.com, The Total Weight Loss Solution, is a team of nine board-certified bariatric surgeons and support staff who specialize in comprehensive weight loss and wellness for life. Founded in 2000 as an advanced bariatric surgery practice, SSL has offices in Covington, New Orleans and Slidell. Informational weight-loss surgery seminars are free to the public and held on a weekly basis at various locations. To learn more about SSL, the surgeons, services and seminars, please visit http://www.whyweight.com, connect with them on YouTube, or call 985-234-3000.
###