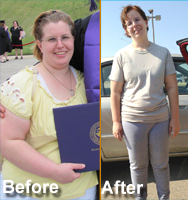 Dr. Patel changes lives! - said Denise
San Antonio, Texas (PRWEB) February 27, 2014
Dr. Nilesh A. Patel of Texas Bariatric Specialists is pleased to announce that the extraordinary gastric bypass surgery performed on Denise French dramatically improved patient's ability to have children, which was once nonexistent.
Denise French lived deep inside the walls she'd built around herself growing up; her plan was to keep people out. She didn't need friends when she had a best friend already, food. Growing up a loner, she had a hard time meeting people after a childhood filled with bullying and name-calling because of her weight. What began as a promising childhood of playing outside and professional swimming lessons quickly changed when she turned eleven years old and hit puberty which added on the pounds. As the bullying continued, Denise turned to food for comfort and continued eating when she was stressed, bored, or frustrated.
After completing a physical for her husband's job in the Army, she learned that she had metabolic syndrome, a term used for a group of risk factors that increases the chance of heart disease and other health diseases like diabetes or stroke. Denise also learned that her high weight could lead to infertility, and there was little to no chance of her getting pregnant at her current weight. If she ever wanted children, Denise needed to lose weight or try a regime of multiple pills daily that could possibly help.
"I brushed it off at first," she recalled about the infertility diagnosis. Denise wasn't ready to think about not being able to try little bites of all the delicious, yet unhealthy, foods she baked at her job at an HEB bakery. Figuring she had enough time to lose weight if she ever decided to have children, she continued living her unhealthy lifestyle of eating sugary foods and drinking up to two liters of soda a day. It was her husband that influenced her to try to lead a healthier lifestyle. Her husband was her rock and she wanted to be healthy in order to be with him as long as possible and the older she became, the more she began to rethink the idea of having children. "I wanted to be healthy and live longer," Denise said.
Turning to a friend that had gotten bariatric surgery and lost a lot of weight, Denise quickly researched the surgeon who performed her friend's procedure. "My friend said Dr. Patel was amazing, so I looked him up and everything I found sounded great so I went from there," she said. Quickly signing up for a seminar in the Killeen office, Denise immediately felt good about her decision. "I felt comfortable right away with the office and the people I met there," she remembered thinking there was no reason to look elsewhere for her bariatric surgery, she had found the right place.
First meeting with Dr. Patel's PA James Houston, Denise and he went over bariatric surgery options. "I needed a real weight loss reset so we chose the gastric bypass." She was sure that the lap-band wouldn't suit her weight loss needs and James Houston agreed with her. Once she made an appointment with Dr. Patel later in her pre-operative process he agreed with Denise and James' decision and just two months after her seminar, Denise was scheduled for her surgery.
"I would do it all again," Denise said regarding the entire process before and after her gastric bypass surgery. "Dr. Patel made me feel comfortable and happy." Denise strictly followed her post-operative diet and looked to the Texas Bariatric Staff to keep her on track. With renewed energy that she never had before, she started a spin class, weight lifting and even finished third in a summer Triathlon. Even small routines changed with the weight loss, she had the energy to walk her dogs every morning and parked as far as possible in parking lots in order to walk a little bit more. She even received amazing news from her doctor, her future looked bright and she'd be able to have kids in the near future. "We plan on trying to have children next year, I can't wait!"
Denise also broke down the high walls that she hid herself in. Determined to drop food as her best friend, she found the courage to begin taking classes for paralegal work with dreams of becoming a lawyer and has met many people she considers close friends along the way. Without the extra weight to hold her back, she exceled in her classes, even a speech class that she never would have dreamed of taking at her old weight of 280 lbs! "People didn't see me as fat, I am finally normal."
About Texas Bariatric Specialists
Founded by Dr. Nilesh A. Patel, MD, a nationally recognized and fellowship-trained bariatric surgeon, Texas Bariatric Specialists (TBS) is a holistic weight loss practice focused on delivering long-term weight loss solutions for patients. Dr. Patel specializes in surgical weight loss procedures including Lap Band, Gastric Bypass, Gastric Sleeve, Gastric Band, and the revision of failed weight loss surgery, which have resulted in over 2,500 surgeries exceeding the national average of successful weight loss management. With a commitment to surgical expertise, compassionate care and exemplary preoperative and postsurgical consultative services, Dr. Patel and his staff at Texas Bariatric Specialists ensure successful weight loss management for their patients through long-term relationships to support good health. Offices are located across major cities throughout Texas including San Antonio, Austin, Corpus Christi, New Braunfels, Seguin, Boerne, Kileen, Temple, Del Rio and Laredo. For more information, or to book a free informational seminar, please visit http://www.texasbariatricspecialists.com.